Mobile Camera Equipment for Your Place of Worship
Padcaster offers affordable, elegant, and simple solutions to improve the professional quality of filming and live streaming for places of worship such as churches, synagogues, and mosques. Religious services are now, more than ever, streaming online, and Padcaster provides the tools you need to maximize connection with your congregation. In addition to religious services, Padcaster camera equipment has you covered for all meetings; from small group gatherings to virtual conferences.
Whether you're live streaming a Bat Mitzvah or recording Catholic Mass, an iPad and Padcaster can elevate the experience. Padcaster's wide range of microphones guarantees that you capture incredible sound on your mobile device. The Padcaster Fluid Head Tripod/Monopod is sturdy and portable to ensure stable video under any conditions. Padcaster even offers a mini teleprompter, so speakers no longer need to memorize lines or look down at scripts. These accessories, along with the many other filmmaking tools Padcaster has to offer, will streamline and greatly improve your broadcast.
Completing the mobile production suite for your worship services is the Padcaster Producer App, which gives your iPhone or iPad's camera manual camera controls and allows you to instantly add graphics, overlays, chroma key and other features to your livestream or pre-recorded video.
LEARN MORE ABOUT THE PADCASTER PRODUCER APP for iOS.
Padcaster integrates seamlessly with a number of professional camera apps and platforms. Use Padcaster with your favorite app to record or broadcast anywhere in the World. To edit your footage, simply use the iMovie App that comes pre-installed on all iPads or transfer footage to your computer.
More affordable than traditional camera equipment, Padcaster is simple to set up and even simpler (intuitive) to operate.
Livestream Religious and Worship Events
Record worship services and sermons
Livestream to anywhere in the World
Connect your congregation online while they're at home
Broadcast Weddings, Bar and Bat Mitzvahs, Funerals and other ceremonies
Conduct meetings of all sizes
Padcaster Studio

Transform your iPad into an all-in-one mobile production suite with the Padcaster Studio. Perfect for schools, journalists, filmmakers, companies of all sizes and more, the Padcaster Studio is a turnkey video production system that empowers you to tell your story - with tools that are mobile and professional.

Break the rules, not your gear.

Case

A rugged military-grade aluminum frame and flexible urethane insert protect your iPad to ensure that you always get your shot no matter where you go.

See things your way.

Optics

Dramatically increase your iPad's field of view with the Padcaster Wide Angle/Macro Lens or zoom in close to the action with the Padcaster Telephoto Lens.

Be heard over the crowd.

Audio

With the Padcaster Unidirectional Microphone, Stick Microphone and Lavalier Microphone you're ready to record great sound in any situation.

Shed some light on the situation.

Lighting

The Padcaster LED Light packs 96 high intensity LEDs into a tiny package. Fully dimmable and with 360° articulation, the LED also works with four AA Batteries or a rechargeable battery pack.

Brace yourself.

Support

The Padcaster Fluid Head Tripod/Monopod is packed with features - perfect as a full-height tripod on the ground or a portable monopod on the go. Coupled with the ultra-compact Padcaster Dolly Wheels, the two provide maximum portability between locations and limitless versatility on location.

Tell your story.

Teleprompter

With the Parrot Teleprompter you can speak naturally while looking right at the lens - and interacting directly with your audience.  With the same quality beam splitter glass found in high-end teleprompters, just roll your text on any phone and start telling your story with the Parrot. The only time you'll be speechless is when you take it out of the box.

We've got your back.

Greenscreen

The Padcaster Greenscreen unfurls to a generous 5'x7' and then quickly packs up into its own small storage bag giving you an instant background - anywhere. With the included Universal Stand, you can hang your Greenscreen wherever you need it.

Contain your excitement.

Backpack

Fully padded with five velcro dividers, removable internal zipper pouch, tripod holder and waterproof cover - the  rugged, elegantly designed Padcaster Backpack securely carries your entire mobile studio with ease.
Case
Optics
Audio
Lighting
Support
Teleprompter
Greenscreen
Backpack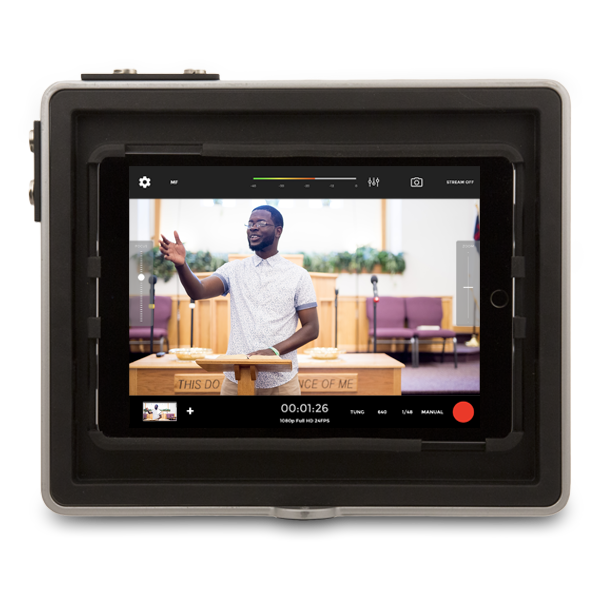 Padcaster and Religious Services
Case Study: How One Church Stepped Up To Livestream Their Services
For so many people, participating with a local religious organization is about connection and support. Due to social distancing, many places of worship have had to get creative to connect their members through video. For long time videographer and Grandview Church member, Greg Mashburn, it was time to utilize his 30 years of professional videography experience to help his local congregation record and livestream their services.
Frequently Asked Questions
Can we include pre-recorded segments in our broadcast?
Yes, as long as you select the right software, you are able to include pre-recorded segments. Many churches prefer to have the bulk of the service live while including some pre-recorded elements. The Padcaster support team is here to help with software recommendations.
How many people does it take to film the broadcast?
Because of Padcaster's ease of use, a single person can operate the broadcast. The Parrot Teleprompter even comes with a bluetooth remote, so the Pastor or other speaker can record themselves.
Can Padcaster be used for small group meetings such as bible study?
Yes. Padcaster can help with any videos you want to create, regardless of audience size. If you want to keep a livestream private for a more intimate event such as a bible study, the Padcaster support team can help you select the correct software and privacy settings.
If my church needs a custom solution, can we put together our own package?
Yes! We understand that all churches have unique needs and we are happy to work with you to put together a custom package based on your goals and what equipment you may already have.