Live Streaming Equipment for Virtual Events from Padcaster

Live Stream Anywhere in the World
Mobile Camera Equipment from Padcaster for Livestreaming and Virtual Events
The best camera for livestreaming is the camera you already have. Padcaster builds upon the high-quality cameras on phones and iPads to give you everything you need to execute livestreams that look and sound great, such as microphones, tripods, lenses and more. Easy to assemble, all of the Padcaster components and packages fit into a backpack.
If your event requires a speaker to give an address, Padcaster even offers a mini teleprompter that runs off of a smartphone, so there is no need for the speaker to memorize lines or look down at their script. The Padcaster Parrot Teleprompter is complete with a wireless Bluetooth remote, so you can operate the teleprompter yourself while connecting with your audience.
The Padcaster Producer App, exclusively available in the Apple App Store, completes your mobile production suite with a downloadable app.
LEARN MORE ABOUT THE PADCASTER PRODUCER APP.
Live video is more important now than ever, and Padcaster ensures that any event, big or small, can run smoothly. More affordable than traditional camera equipment, Padcaster is simple to set up and even simpler to operate. Padcaster equipment makes it easy for you to livestream, so that you can enjoy your event.
Virtual Events Made Easy
Celebrate with friends and family remotely
Broadcast to anywhere in the world
Livestream weddings, graduation ceremonies, religious services, funerals and more
Record video to share near and far
Conduct virtual meetings
Livestream your event so that everyone can attend
Padcaster Studio

Transform your iPad into an all-in-one mobile production suite with the Padcaster Studio. Perfect for schools, journalists, filmmakers, companies of all sizes and more, the Padcaster Studio is a turnkey video production system that empowers you to tell your story - with tools that are mobile and professional.

Break the rules, not your gear.

Case

A rugged military-grade aluminum frame and flexible urethane insert protect your iPad to ensure that you always get your shot no matter where you go.

See things your way.

Optics

Dramatically increase your iPad's field of view with the Padcaster Wide Angle/Macro Lens or zoom in close to the action with the Padcaster Telephoto Lens.

Be heard over the crowd.

Audio

With the Padcaster Unidirectional Microphone, Stick Microphone and Lavalier Microphone you're ready to record great sound in any situation.

Shed some light on the situation.

Lighting

The Padcaster LED Light packs 96 high intensity LEDs into a tiny package. Fully dimmable and with 360° articulation, the LED also works with four AA Batteries or a rechargeable battery pack.

Brace yourself.

Support

The Padcaster Fluid Head Tripod/Monopod is packed with features - perfect as a full-height tripod on the ground or a portable monopod on the go. Coupled with the ultra-compact Padcaster Dolly Wheels, the two provide maximum portability between locations and limitless versatility on location.

Tell your story.

Teleprompter

With the Parrot Teleprompter you can speak naturally while looking right at the lens - and interacting directly with your audience.  With the same quality beam splitter glass found in high-end teleprompters, just roll your text on any phone and start telling your story with the Parrot. The only time you'll be speechless is when you take it out of the box.

We've got your back.

Greenscreen

The Padcaster Greenscreen unfurls to a generous 5'x7' and then quickly packs up into its own small storage bag giving you an instant background - anywhere. With the included Universal Stand, you can hang your Greenscreen wherever you need it.

Contain your excitement.

Backpack

Fully padded with five velcro dividers, removable internal zipper pouch, tripod holder and waterproof cover - the  rugged, elegantly designed Padcaster Backpack securely carries your entire mobile studio with ease.
Case
Optics
Audio
Lighting
Support
Teleprompter
Greenscreen
Backpack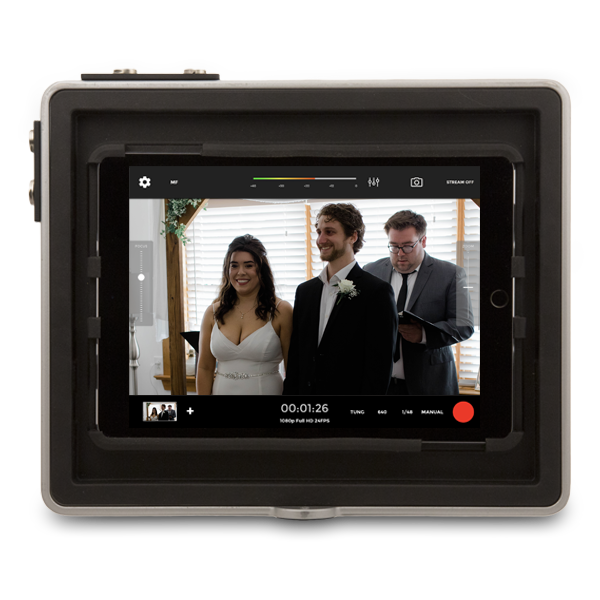 How One Couple Used Padcaster to Live Stream Their Wedding
Case Study: Read Randy & Kasey's Virtual Wedding Story
Like many couples around the world, Randy and Kasey Enish were enthusiastically preparing to tie the knot in front of rows of family and friends. However, knowing not everyone would be able to come, Randy and Kasey decided they needed a social distancing solution. Utilizing Facebook Live and the Padcaster, Randy and Kasey were able to share their wedding ceremony with their entire original guest list despite being hundreds of miles away.
Frequently Asked Questions
Is there a limit to the number of people who can attend my virtual event?
Given that different software solutions have different limitations, the Padcaster support team is here to help you find the software solution that is right for your event and your audience size.
I need help converting my event from an in-person to virtual. Do you help with logistics or can you refer me to someone who does?
Will Padcaster work with my internal team meetings too, while I plan my virtual event?
Absolutely. Padcaster can be used for all types of video communication.
Have other event producers used Padcaster for their events? Can I get a testimonial or reference from them?
We have a number of case studies on our blog. If you would like to be connected to a more specific reference, please reach out. 
Is there a way to ensure that my event is private?
Yes. If you have privacy concerns for a more intimate event, the Padcaster support team is here to help make sure that your event is only seen by those invited.
Will I be able to re-watch the event after it happens?
Given you select the right software, yes. Facebook Live, for example, stores the video after it is streamed. You can then select who you would like to be able to view the video.
None of your existing packages include all the pieces we need for our event. Can we put together our own package?
Yes! In addition to our pre-built packages, we are happy to work with you to put together a custom package that meets your needs.