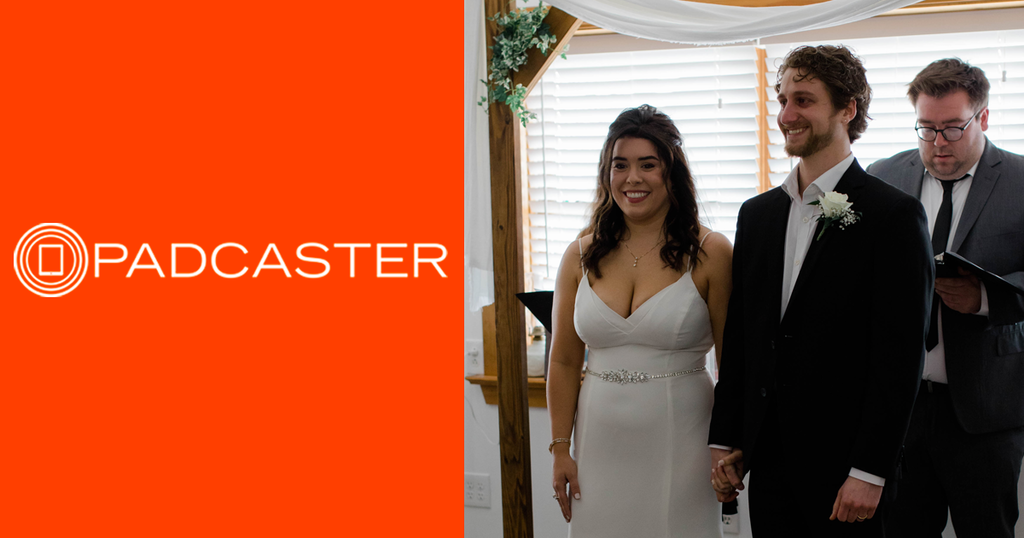 Like many couples around the world, Randy and Kasey Enish were enthusiastically preparing to tie the knot in front of rows of family and friends. The last thing they were expecting to deal with was a global pandemic. While they planned to reschedule their reception, they didn't want to wait to get married! For this reason, they looked to livestreaming the ceremony as a social distancing solution. Utilizing Facebook Live and their Padcaster, Randy and Kasey were able to share their wedding ceremony with their entire original guest list despite being hundreds of miles away. Read more about their unique wedding story below. 
First of all, congratulations! Tell me a little about yourselves.
R: Thank you! Well, we grew up in neighboring towns in Pennsylvania but never met or knew one another existed. That is until she swiped right. That's right, we met on a dating app! 
K: Randy proposed on Halloween last year and we set a date just four months later! 
What was the experience of setting up a live stream of your wedding like?
K: When the Coronavirus started to make gatherings of 10 or more people hazardous, we agreed it was the best way to keep our loved ones included in our ceremony. 
R: It was a bit surreal. I am not active on social platforms that much so my first reaction was, "Wow, We are really going to make this happen online!" I had confidence in the equipment so from there it was just a matter of being comfortable broadcasting our wedding. I warmed up to it pretty quickly and it worked out so well in the end! 
Why was it important to you, as a couple, to livestream your wedding? 
R: Our guest list was all family and closest friends so we couldn't bear the idea of doing this thing closed off from them. We wanted to have the classic wedding ceremony and reception surrounded by our loved ones. When it became obvious it would not be safe to have a venue full of people we had to get creative about how we could include them. It was important to us to continue with the wedding and still have our friends and families witness it even if they couldn't physically be there 
K: It also gave people something to look forward to when they were at home and out of work or dealing with a big adjustment of the Stay at Home Order. 
What part of the ceremony did you decide to broadcast? 
K: We broadcasted the ceremony only. The main purpose of the stream was sharing our vows and having our everyone at home experience it in the moment with us.
Which platform did you choose to stream it on? Why did you use this platform over other websites?
K: Using Facebook was the best option for us. I already had all of the guests as Facebook friends so it just made things a lot easier Trying to introduce everyone to a new website felt unnecessary, we wanted the process to be as seamless as possible for everyone. We made sure to call everyone to tell them about the cancellation of the original 80 person party/wedding and in that conversation we told them to keep an eye out for a Facebook invitation! 
When the Facebook event was created those guests received a notification to attend. From there they saw our post about our livestream and then attended. It was very straightforward
Kasey's Facebook post
Was it a public live stream or private? 
K: It was important to me that only guests I invited could attend. So I made the event private to keep friends and family from inviting more of their friends and family. We were able to keep it to just the original guests, plus a few extras, and not have it broadcast to the entire Facebook community. 
What did you find was the best part of broadcasting the ceremony? What was the most difficult?
K: The best feeling is getting to share our wedding ceremony with our family and friends. I even added a few people who wanted to attend but were not on the original guest list. It wasn't as difficult as planning a huge wedding event, but knowing how to test the livestream is really important so that when showtime arrives everything is working correctly and there is no last-minute scrambling! 
What equipment did you use?
K: Padcaster case for the 9.7" iPad, Padcaster Tripod, and Padcaster Mini-Microphone. It was so easy to set up. 
R: If we were doing it again we would add an LED light for sure!
What was your biggest takeaway from the experience of streaming your wedding live?
R: Everyone was really supportive and they understood, appreciated, and engaged with us on the livestream by posting lovely comments and messages. In an ever-changing world, it's nice to have this tool for video communication. We now understand how to throw virtual events with the Padcaster gear and will definitely be livestreaming future events for our family and friends who can't make it. 
What would be your biggest piece of advice to other couples who are considering adding a live stream component to their wedding?
K: Test the gear a few times. Get comfortable with it. Check the lighting and audio from a separate device by creating a fake event. Frame up the shot but focus on the basics. It's easy to get carried away and try to shoot it like you're filming a movie. You have to remember, it's for you and your family.  
--
Padcaster transforms your iPad or smartphone into an all-in-one mobile production studio so you can create professional-quality videos from your home or anywhere else. Whether it's for distance learning, telecommuting, remote broadcasting or livestreaming -- Padcaster will help you produce high-quality content wherever you are. If you have had an event that has been moved online due to COVID-19 such as a wedding, religious service, graduation, or 'gathering' of any kind, Padcaster wants to help you! Fill out the form below to get in touch with one of our sales consultants!
Need More Information?
Fill out the form below to get in touch with a member of the Padcaster Team.