Transform your Classroom into a Video Production Studio
Padcaster uses the high-quality cameras on the devices you already know and love — your phones and iPads. Padcaster allows you to mount these devices to tripods and attach lenses, lights, microphones and more.
Included with Padcaster Studio is the Padcaster Parrot Teleprompter, a small yet mighty teleprompter powered by a phone or iPod Touch. Students of all ages love the professionalism of reading off a teleprompter. With Padcaster's cost-effective tools, students can feel like the professionals they see on TV. The Padcaster Parrot Teleprompter is the perfect tool to create or enhance your own morning announcements broadcast.
The Padcaster Studio includes the Padcaster Case for iPads, as well as microphones, lenses, headset, tripod, greenscreen and sunshade, all of which fit into the included backpack for a solution that is portable and easy to store.
Padcaster hardware integrates seamlessly with classroom management systems such as Google Classroom, so you can use it alongside the edtech tools you already love.
In addition to the traditional classroom, Padcaster can be a game-changing distance learning tool, allowing you to create instructional content for your students when you aren't physically in the classroom.
Connecting Educators & Students
Broadcast your own morning news & announcements
Empower your students to create high-quality digital content
Record instructional videos
Livestream events such as graduation, plays and sports
Connect with your students and their families through video
Transport your students anywhere in the world with green screen technology
Conduct virtual meetings with staff or parents
Padcaster Studio

Transform your iPad into an all-in-one mobile production suite with the Padcaster Studio. Perfect for schools, journalists, filmmakers, companies of all sizes and more, the Padcaster Studio is a turnkey video production system that empowers you to tell your story - with tools that are mobile and professional.

Break the rules, not your gear.

Case

A rugged military-grade aluminum frame and flexible urethane insert protect your iPad to ensure that you always get your shot no matter where you go.

See things your way.

Optics

Dramatically increase your iPad's field of view with the Padcaster Wide Angle/Macro Lens or zoom in close to the action with the Padcaster Telephoto Lens.

Be heard over the crowd.

Audio

With the Padcaster Unidirectional Microphone, Stick Microphone and Lavalier Microphone you're ready to record great sound in any situation.

Shed some light on the situation.

Lighting

The Padcaster LED Light packs 96 high intensity LEDs into a tiny package. Fully dimmable and with 360° articulation, the LED also works with four AA Batteries or a rechargeable battery pack.

Brace yourself.

Support

The Padcaster Fluid Head Tripod/Monopod is packed with features - perfect as a full-height tripod on the ground or a portable monopod on the go. Coupled with the ultra-compact Padcaster Dolly Wheels, the two provide maximum portability between locations and limitless versatility on location.

Tell your story.

Teleprompter

With the Parrot Teleprompter you can speak naturally while looking right at the lens - and interacting directly with your audience.  With the same quality beam splitter glass found in high-end teleprompters, just roll your text on any phone and start telling your story with the Parrot. The only time you'll be speechless is when you take it out of the box.

We've got your back.

Greenscreen

The Padcaster Greenscreen unfurls to a generous 5'x7' and then quickly packs up into its own small storage bag giving you an instant background - anywhere. With the included Universal Stand, you can hang your Greenscreen wherever you need it.

Contain your excitement.

Backpack

Fully padded with five velcro dividers, removable internal zipper pouch, tripod holder and waterproof cover - the  rugged, elegantly designed Padcaster Backpack securely carries your entire mobile studio with ease.
Case
Optics
Audio
Lighting
Support
Teleprompter
Greenscreen
Backpack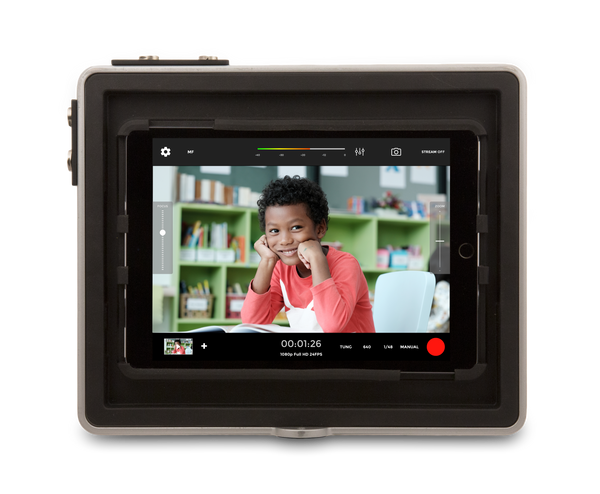 Padcaster In The Classroom
Case Study: Starting a School Media Program From Scratch
Starting with almost no resources, Media Specialist Erick Hanson founded EP Media and the EP Media YouTube channel, an almost entirely student-run media production program. In this program Mr. Hanson focuses on quality over quantity, giving students access to high-quality film tech, enabling them to learn from their mistakes and gain confidence by sharing their videos with the world.
Frequently Asked Questions
Can my school put together a custom Padcaster package?
Absolutely. We know that every school has different needs. Please reach out to get in touch with a sales representative.
Do you offer discounts to schools?
Yes, we do offer education discounts. Please get in touch to learn more.
Can Padcaster be used for distance learning?
When class isn't happening in person, Padcaster can help keep your students connected with distance learning. Padcaster can be operated by just one person, so it's the perfect way to make videos when you're at home.
Can we pay with a purchase order?
We do accept purchase orders from schools. Fill out this form to get in touch with an education sales representative to help you through the process.
Can Padcaster be used for green screen?
Yes. There are a number of free green screen iPad apps available that can be used alongside Padcaster. The Padcaster Studio comes with a pop-up green screen, so you won't need to purchase any additional equipment.
What software works with Padcaster?
Any software that works with your iPad will work with the Padcaster. We recommend MoviePro for filming, DoInk for filming green screen, and Live:Air for livestreaming. If you need more help with software recommendations please email us at support@padcaster.com
Can Padcaster be used as a concurrent teaching tool?
Yes! In addition to remote and hybrid learning, Padcaster can transform your mobile device into the perfect turnkey solution for teaching in the classroom while additional students are watching from home. Contact one of our sales representatives to find out how: https://padcaster.com/pages/request-a-quote