Video Production and Live Streaming Equipment for Hybrid Learning from Padcaster
Virtual Classroom Tools by Padcaster
When you're unable to be in the physical classroom, Padcaster is here to help you and your students stay connected. Padcaster's virtual classroom tools allow you to communicate with your students effectively over video.
Padcaster not only allows you to conduct your virtual classroom with Zoom or other streaming platforms, but also helps you create quality pre-recorded videos and livestream directly to your students.
Students learn best when they can hear and see you clearly. While adjusting to learning at home, students shouldn't be distracted by the quality of their video lessons.
Padcaster uses the high-quality cameras on the devices you already know and love; your phones and iPads. Padcaster allows you to mount these devices to tripods and attach lenses, lights, microphones and more.
In addition to basic filmmaking accessories such as tripods and microphones, Padcaster even offers a mini teleprompter, so educators no longer need to memorize lines or look down at scripts. The Padcaster Parrot Teleprompter is complete with a wireless Bluetooth remote, so that you can operate the teleprompter yourself while connecting with your students.
Use Padcaster with your favorite filmmaking apps to shoot, edit and share your videos with your students, or livestream directly from the iPad. Padcaster hardware integrates seamlessly with Google Classroom and other classroom management systems, so you can use it alongside the virtual classroom tools you already use.
Padcaster equipment makes it easy for you to create video content, so that you can focus on what's most important; educating your students.
Record lessons
Conduct your virtual classroom alongside tools such as Zoom and Google Classroom
Connect with your students
Broadcast to your students' homes
Hold meetings with administrators, parents and students
Live stream lectures to anywhere in the world
Padcaster Studio

Transform your iPad into an all-in-one mobile production suite with the Padcaster Studio. Perfect for schools, journalists, filmmakers, companies of all sizes and more, the Padcaster Studio is a turnkey video production system that empowers you to tell your story - with tools that are mobile and professional.

Break the rules, not your gear.

Case

A rugged military-grade aluminum frame and flexible urethane insert protect your iPad to ensure that you always get your shot no matter where you go.

See things your way.

Optics

Dramatically increase your iPad's field of view with the Padcaster Wide Angle/Macro Lens or zoom in close to the action with the Padcaster Telephoto Lens.

Be heard over the crowd.

Audio

With the Padcaster Unidirectional Microphone, Stick Microphone and Lavalier Microphone you're ready to record great sound in any situation.

Shed some light on the situation.

Lighting

The Padcaster LED Light packs 96 high intensity LEDs into a tiny package. Fully dimmable and with 360° articulation, the LED also works with four AA Batteries or a rechargeable battery pack.

Brace yourself.

Support

The Padcaster Fluid Head Tripod/Monopod is packed with features - perfect as a full-height tripod on the ground or a portable monopod on the go. Coupled with the ultra-compact Padcaster Dolly Wheels, the two provide maximum portability between locations and limitless versatility on location.

Tell your story.

Teleprompter

With the Parrot Teleprompter you can speak naturally while looking right at the lens - and interacting directly with your audience.  With the same quality beam splitter glass found in high-end teleprompters, just roll your text on any phone and start telling your story with the Parrot. The only time you'll be speechless is when you take it out of the box.

We've got your back.

Greenscreen

The Padcaster Greenscreen unfurls to a generous 5'x7' and then quickly packs up into its own small storage bag giving you an instant background - anywhere. With the included Universal Stand, you can hang your Greenscreen wherever you need it.

Contain your excitement.

Backpack

Fully padded with five velcro dividers, removable internal zipper pouch, tripod holder and waterproof cover - the  rugged, elegantly designed Padcaster Backpack securely carries your entire mobile studio with ease.
Case
Optics
Audio
Lighting
Support
Teleprompter
Greenscreen
Backpack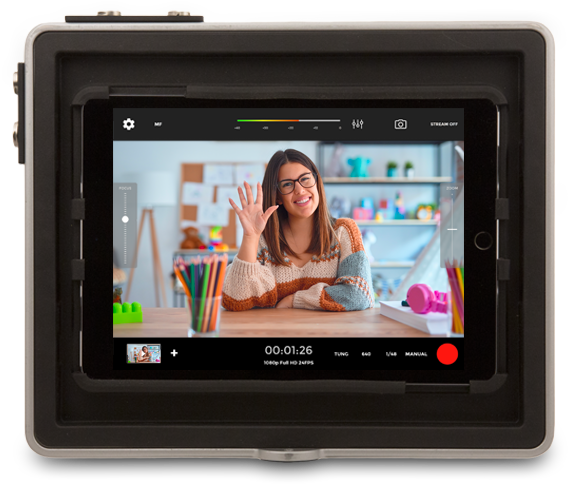 Distance Learning Means More Than Just Zoom Meetings
Case Study: Videos You Can Make To Help Your Students During Remote Learning
While many teachers are keeping their classrooms connected in real-time via video conferencing such as Zoom, pre-recorded video can also have a major positive impact on students. Here are three ways to incorporate pre-recorded video into your virtual multimedia 'classroom'. 
Frequently Asked Questions
Can I pay with a purchase order?
Yes, we do accept purchase orders from schools. Please fill out this form to get in touch with an education sales representative. 
Can I use Padcaster for staff meetings and parent-teacher conferences?
Absolutely! Padcaster allows you to participate in meetings with professional video that looks and sounds great.
Will Padcaster work for virtual events, too, such as award ceremonies and graduations?
Yes. Please see our virtual events page for more information on using Padcaster for live streaming.
Have any school systems purchased Padcaster, and can we get a testimonial or reference from them?
Schools all over the world are using Padcaster for a wide range of applications. You can find a number of success stories on our blog, or please reach out if you'd like a more specific reference.
Do you offer education discounts?
Yes, we do offer education discounts. Please get in touch to learn more.
What age students is Padcaster best suited for?
Students of all ages, from preschoolers to college and graduate students, are using Padcaster to facilitate their learning. Padcaster solutions can be as simple or as complex as you would like them to be.
If my school needs a custom solution, can we put together our own package?
Yes! We understand that schools all have unique needs and we are happy to work with you to put together a custom package.