Professional-Quality Livestreaming Equipment for School Sports
Livestream student athletic events all over the world with Padcaster! Whether you're filming inside of a gym, on a tennis court or at a football stadium, there's no need to invest in expensive sports video equipment. Padcaster transforms the devices you already know and love into the ultimate sports livestreaming solution.
Easily livestream athletic events from your iPad or smartphone to your school's preferred social media channel or other networks. Filming or streaming sports with an iPad or smartphone has never been easier than with Padcaster. Simply record professional-quality videos of games and matches to post later or to send out to students' friends and families.
Padcaster uses the high-quality cameras already on your devices and allows you to mount them to tripods and attach lenses, lights, microphones and more. In addition to basic sports filming equipment such as tripods and microphones, Padcaster offers a mini teleprompter, so your student news team can instantly become sportscasters reporting on location.
Padcaster is compatible with all your favorite filmmaking apps to create professional-quality sports livestreams with multicam capabilities, lower-thirds and graphics. Learn more about the Padcaster Producer App, which functions like a professional sports broadcasting app.
Livestream School Events, Games & More
Livestream school sporting events
Record games or practices to study afterward
Advertise games and events with promotional videos
Create a student-led sports broadcasting program
Produce highlight reels for student athletes
Share Padcaster with other departments including clubs, morning announcements, school news and more.
Easily livestream student sports
Padcaster Studio

Transform your iPad into an all-in-one mobile production suite with the Padcaster Studio. Perfect for schools, journalists, filmmakers, companies of all sizes and more, the Padcaster Studio is a turnkey video production system that empowers you to tell your story - with tools that are mobile and professional.

Break the rules, not your gear.

Case

A rugged military-grade aluminum frame and flexible urethane insert protect your iPad to ensure that you always get your shot no matter where you go.

See things your way.

Optics

Dramatically increase your iPad's field of view with the Padcaster Wide Angle/Macro Lens or zoom in close to the action with the Padcaster Telephoto Lens.

Be heard over the crowd.

Audio

With the Padcaster Unidirectional Microphone, Stick Microphone and Lavalier Microphone you're ready to record great sound in any situation.

Shed some light on the situation.

Lighting

The Padcaster LED Light packs 96 high intensity LEDs into a tiny package. Fully dimmable and with 360° articulation, the LED also works with four AA Batteries or a rechargeable battery pack.

Brace yourself.

Support

The Padcaster Fluid Head Tripod/Monopod is packed with features - perfect as a full-height tripod on the ground or a portable monopod on the go. Coupled with the ultra-compact Padcaster Dolly Wheels, the two provide maximum portability between locations and limitless versatility on location.

Tell your story.

Teleprompter

With the Parrot Teleprompter you can speak naturally while looking right at the lens - and interacting directly with your audience.  With the same quality beam splitter glass found in high-end teleprompters, just roll your text on any phone and start telling your story with the Parrot. The only time you'll be speechless is when you take it out of the box.

We've got your back.

Greenscreen

The Padcaster Greenscreen unfurls to a generous 5'x7' and then quickly packs up into its own small storage bag giving you an instant background - anywhere. With the included Universal Stand, you can hang your Greenscreen wherever you need it.

Contain your excitement.

Backpack

Fully padded with five velcro dividers, removable internal zipper pouch, tripod holder and waterproof cover - the  rugged, elegantly designed Padcaster Backpack securely carries your entire mobile studio with ease.
Case
Optics
Audio
Lighting
Support
Teleprompter
Greenscreen
Backpack
Stream The Next Big Game With Padcaster
Tips For Livestreaming Middle & High School Sports
Schools everywhere are livestreaming sporting events to engage community members who can't be there in person. Streaming video may seem daunting at first, but with a little preparation and troubleshooting, you can seamlessly integrate livestreaming into your school's athletic program.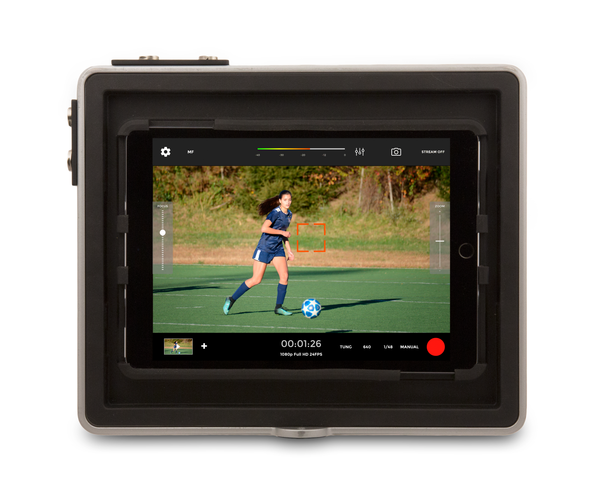 Frequently Asked Questions
Can you make a custom Padcaster package for what my school needs?
Can you conduct a multi-camera livestream for school events and games with Padcaster?
Can the Padcaster take stills as well as video?
Yes! Easily shoot great images and video from your iPad with Padcaster.
What social media platform will my Padcaster videos stream on?
You can use your Padcaster to livestream to all major social media platforms, including Facebook and YouTube.
Can Padcaster be used for livestreaming and filming outdoor school sports?