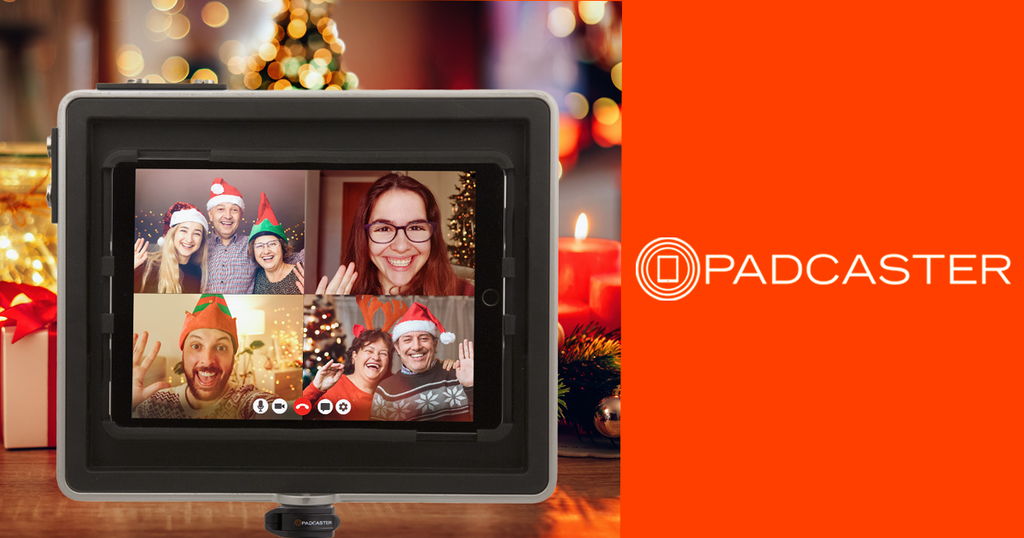 This holiday party season looks a little different and a lot more virtual than years past but that doesn't mean it has to be any less jolly! Virtual holiday parties can be fun and festive and with the added benefit of never having to leave your living room. With a few creative activities and a good video setup you can throw a great virtual party that will have friends and family talking for years to come.  Here are 14 tips and activities for throwing a successful virtual holiday party.
Virtual Invite
If you're planning a virtual holiday party this year with family, friends or coworkers consider sending out a virtual e-vite in advance. This gives you a fun opportunity to get festive while conveying important information. Make sure to include any pertinent information such as: the video conferencing platform, links to the virtual room, start time, theme, activities, schedule, or list of supplies needed.   
Virtual Scavenger Hunt
Create a list of household and holiday themed items and wait to send it out until everyone is ready and on the call. Once everyone is present on the call, have them open their lists and begin the hunt. The first person or group to show you all the items on your list wins!  
Good Lighting
Nothing is worse than that awful blue screen glow! You may need to move some lamps around the house to optimize the lighting or take advantage of a portable LED light. Make sure to test it beforehand, and at the same time of day as the actual event. 
Holiday Trivia
Who doesn't love some good old fashioned trivia? Don't be afraid to get creative with your questions, they can be focused on your family, coworkers, the holidays in general, or whatever you feel like at the time! A $10 online gift card to Amazon could be an easy prize for this fun activity.
Dramatic Reading of a Holiday Classic Story
Make a classic holiday tradition more inclusive by reading stories aloud over a virtual call. If you can find a copy of text online, send everyone a section to read to get everyone involved.
Play a Classic Game Like Charades, Pictionary, or Name that Holiday Tune
Don't forget tried and true parlor games such as Charades, Pictionary and Name That (Holiday) Tune. All three can easily be adapted for playing virtually and have the bonus benefit of little prep work.
Try Fun New Virtual Games with JackBox Games!
If you're looking for a great twist on some of your favorite classic games then check out Jack Box Games. Jack Box has mastered a wide range of creative party games that invite you to use your smartphone to play along. 
Create a Fun Background for Your Virtual Party 
As this year draws to a close we can all attest to having been on what feels like a million virtual calls. If you've been stuck in the same room with the same background consider shaking things up. If you can go mobile, set your mobile device or laptop up with a view of your Christmas Tree or transform a wall with some extra decorations. Downloading a fun themed background for your virtual call is also a great way to get into the holiday spirit. 
Everything is More Fun With a Theme
Choose a theme for an online holiday party! You can go the traditional route and make it formal or request everyone break out their best (and ugliest) holiday sweater. 
Utilize the Mute Button
Make sure everyone knows how to mute themselves if they're making noise, and don't be afraid to call people out. Background noise can be extremely distracting, especially if you have a large virtual call!
Most Likely to Superlatives Holiday Addition
Get your guest involved with fun Holiday Superlatives! Send out the list of titles a week in advance, list of attendees and then announce the winners at your virtual party. Some examples are superlatives: most likely to spend the most on decorations, most likely to bake too many holiday sweets, best holiday sweater, best holiday card, best gift giver, ect.
Complete a Holiday Craft 
Look up some fun holiday crafts online and send out the instructions and supply list to your guests. This way when everyone gathers online you can mimic the holiday party feel by crafting together virtually. Gingerbread houses, paper snowflakes, and Holiday cards are some great examples. 
Consider a Holiday Brunch Party 
Since there's no travel required with a virtual party, consider a Holiday Brunch instead of Holiday Cocktail Hour. Scheduling your party the morning could make it easier for friends and family to attend, especially for those with kids!
Last but Not Least Consider Using a Padcaster
If you want an easy way to get exceptional lighting and framing for your virtual party consider using a different device than your laptop or desktop. iPads and smartphones can easily be transformed into a professional video-studio with a couple of accessories: check out our Padcaster Studio and Padcaster Mobile Media Kit for example.
Padcaster transforms your iPad or smartphone into an all-in-one mobile production studio so you can create professional-quality videos from your home or anywhere else. Whether it's for distance learning, telecommuting, remote broadcasting or livestreaming -- Padcaster will help you produce high-quality content wherever you are. If you have had an event that has been moved online due to COVID-19 such as a wedding, religious service, graduation, or 'gathering' of any kind, Padcaster wants to help you! Fill out the form below to get in touch with one of our sales consultants!
Need More Information?
Fill out the form below to get in touch with a member of the Padcaster Team.