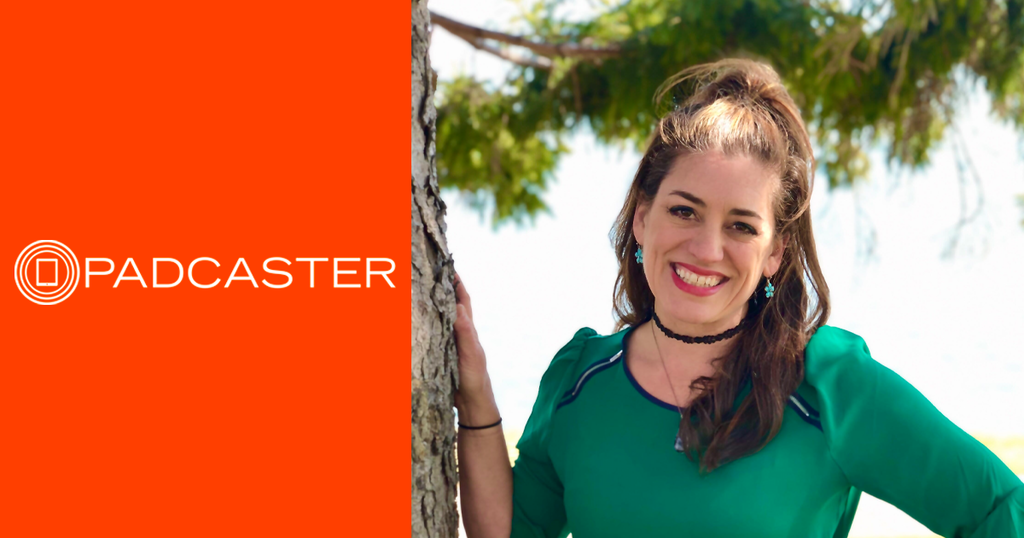 Digital Media Educator Erika Sandstrom has been a dedicated teacher for over 29 years, focusing on using video production and green screen technology to help her students succeed. With the onset of COVID-19, Ms. Sandstrom has taken remote teaching in stride, relying on her skills with green screen technology, video production, and a deep passion for teaching empathy to help her students and colleagues cope with the new educational landscape. Padcaster spoke with Ms. Sandstrom about her transition into remote learning, her advice to fellow educators, and how dedicating time for mindfulness education is now more important than ever.  
Did you have any background in remote learning before COVID-19? 
Yes! I teach online courses for adults, mostly about green screen tech. My current adult online class is called  "How To Become A Green Screen Guru", and I've also taught video production courses as well. As far as teaching my students remotely, no I had not.
For my online green screen courses, I currently teach using  ZOOM, FLIPgrid, Google Classroom, a private group on Facebook, and Padlet to interact with my students and be involved throughout their journey and as support! These courses plus several more will be posted soon on a platform such as Teachable or Kujabi for all to be able to participate globally. 
To check out a sample of one of Ms. Sandstrom's courses click here.
What is the primary difference between teaching adults vs. young students remotely? 
Just getting kids to show up is a big issue. It's been very difficult for teachers across the nation and it's not because we're not planning fun things. I think there are, actually, a number of different reasons for why we're having trouble with attendance. Sometimes you just don't know what the technology situation is, as in if there's one device in the house and another family member is using it. Sometimes the family will have four kids with one device or they don't have devices at all. That's a huge problem. Some kids are trying to learn remotely on their phones and sometimes students are just teenagers and don't want to. I think some teenagers thought school was just canceled, but now they're realizing it was not.
I have noticed how important it is to engage students, especially this generation, about every few minutes or else you'll lose them. I end up using the chatbox instead of having them speak out loud to help them focus. So yes, attention is a challenge but I'm finding ways to work with them and keep them engaged. 
Can you briefly break down how you are currently utilizing remote education strategies?
I am using both synchronous and asynchronous teaching strategies. I am having students use household items to create "green screen" chroma-key creations that don't even have to be green. Like our YOGA MAT lesson plan where students use any color mat to take themselves to a dream place. I've been encouraging the De-Clutter Challenge for self-care and learning time-lapse photography and video production using WeVideo to produce it with music, video effects, text, etc. Use a household item that is green to create some fun and spread some love using Doink App animation library!  
Time management has also been an important strategy, so our school made a schedule for students to either work on classwork or show up for live classes during their actual block time. I also hold live classes at least once a week and have office hours on Fridays or during their class block time, plus invite your family to a game-time to stay connected. 
Example of distance learning schedule.
What do you see as the benefits and drawbacks of teaching live vs. pre-recorded? 
I think it is important to mix it up, but recorded tutorials are a must as a follow up for students for reference and for deeper learning. We are not allowed to record our class sessions with students for security purposes, but I have recorded my screen and edited the video to make sure no student names or faces are shown as a helpful reference for students who missed the class. The live streams are more about checking in and keeping our relationship going for trust levels and their social-emotional well-being. They are so distracted during live meets because they are seeing all of their friends from school, I find that for instruction I have them turn off the cameras, but for checking in and games, etc. we turn the cameras on.  
Many teens do not want to turn on their cameras, especially the girls. I have to be careful as they may not want to show their homes either so I instruct them to find a blank wall or corner of a room with nothing behind them if possible. I also ask students to sit up and not be laying down for class and they have been instructed to create a proper learning environment. They are asked to find a space where there aren't other distractions like someone cooking in the kitchen or watching TV near them. One of our first assignments was to make a video or write a blurb sharing their created working space that is conducive to distance learning.  
 Ms. Sandstrom's workspace. To watch her video about how student's can maker their own click here
It's important that I say I do really like remote teaching. I think there is a magical combination of remote and in-classroom learning when done correctly. There are schools that are already doing this worldwide which means there is an answer out there to how this can work. There is a huge space for remote learning in the future, even after things go back to normal. 
One of my favorite tips for teaching remotely live is to put a picture of your actual classroom behind you on a green screen. That way the kids, especially the little ones, can feel some familiarity.
Are there benefits to teaching online instead of in person, even when it's an option to teach in person? 
I think the benefit of teaching online is that I have more of an opportunity to teach independence and responsibility to reinforce and extend in-person learning in more creative ways than traditional homework. Students can do so many things to apply their learning out in the real world or even through innovative technology that is now available. If you want them to learn Spanish, they should have a peer across the world they can remotely work with, converse with, tutor, or be tutored by. It would be super powerful to have time for remote learning where our teens could even work with elementary-aged students in Europe to learn English/Spanish together! Pen pals in modern times. Classrooms could meet to work together too, play games, and share lessons. I am working with a teacher in Spain now collaborating on green screen projects between our students!   
Remote learning could provide more of these opportunities and promote unity across cultures that we do not currently have the time for in a regular classroom setting. Also, dealing with time zone differences is possible now with remote learning as we can go online at 10 am to meet our new friends in Spain where it is 4 pm, etc. Since we are all at home that is possible! At school, my PLN teacher friend in Spain I met on Twitter and I have struggled to work with the kids together due to time zone constrictions. Remote learning has changed that for the better! Personally, I would love to have a new future of Hybrid learning for all of education. 
I also think one of the biggest benefits is getting rid of the commuting, for teachers as well as students. I also don't miss the packed schedule. I often had classes back to back and no time in between classes, remote teaching has given me a nice break from that.
How do you think the students' experience with distance learning will help them in the future?
It will teach them empathy, especially with some guidance from parents, teachers and if they focus on  practicing the Mindfulness Mirror:
Responsibility
Self-reliance
Self-motivation
Self-reflection
Distance learning will help students hone their empathy and compassion for the world around them. It will help them have gratitude for the little things and it will give them a break from the drama, stress, and anxiety of the teenage world.
What programs have you been using for distance learning and communicating with your students?
I've been using everything from Google Meet to Zoom to group us together, I mean there are a million programs out there. Oh, and I use Seesaw for the little ones.
The best way to communicate with students is to find one program, one major tool that works, that your kids are familiar with or they could get familiar with very easily and use that. If you have too many things going on, too many different websites, it can really stress the kids out.
What resources do you recommend for teaching remotely?
For resources, I could recommend so many, but to name a few that are incredible for video and interactive activities and organizational platforms that create and promote community similar to Facebook, etc. for your schools and classrooms:
Doink APPS
WeVideo
Class Dojo
SeeSaw
Wakelet
Google Classroom
FlipGrid
What have you found to be the most valuable tool when it comes to remote learning?
I do believe some type of green screen is powerful for any teachers using Zoom. The virtual backgrounds provide more creativity and visual representation during lessons, but most importantly they can provide some comfort to the students by putting a photo of their classroom behind the teacher! The green screen virtual backgrounds keep the students engaged as well and it looks more like a professional classroom versus us sitting on our couch or at the kitchen table. 
I also think that green screen tech is a great tool for making remote learning fun. For example, if I'm going to teach something new for Spanish class I can be running with the bulls. For teaching about weather patterns, I could fly across the room with a storm. It's really fun. 
What advice can you offer to educators who are new to the remote-learning landscape?
My advice is to be patient with yourself as you are learning too! Try to keep things simple, the world is very complicated right now for both teachers and students. Focus more on relationships with your students to keep their social-emotional well-being your number one priority. Self-care for you - which includes starting or building on your own mindfulness practice. There are incredible free self-care resources out there for teachers such as Headspace, Insight Timer and CALM.  Also, encourage your students to start a practice with apps such as Smiling Mind. My favorite Dalai Lama quote says it all… "If every 8 year old is taught meditation, we will eliminate violence from the world within one generation." I truly believe in the power of meditation and think it is so important to find a way that works for you!  For example, I love the walking meditations on headspace.com or even just taking a two-minute mindfulness break on websites like donothingfor2minutes.com.
When it comes to distance and hybrid learning programs, what role do you think the district level should play? Should they be more involved? 
Yes, and I'm really glad you asked that because I'm pushing for more of it from my own district. A lot of districts around the nation have digital, they call them different things, but they are essentially digital learning coaches. Schools need technology coaches at every level too, especially for elementary, because a lot of devices are not necessarily at home with little ones.
Everyone should be doing asynchronistic teaching and blended learning. To do that there needs to be professional development galore for teachers to be able to do this. What the current situation has shown us, is how important it is and what a great tool it can be.
I've been doing my green screen workshops for a while now, but now people really need it and they really want to learn it. I've noticed that a lot of the fear that surrounds learning a new technology is being overcome, and I'm really, really proud of the teachers who are working hard at trying something new. This was scary for me but it has also been my dream to have an opportunity to share this knowledge.
What's your advice to other educators who are maybe struggling with this new remote and hybrid learning landscape?
I think the advice I have is it really starts with you. If people have a fear of technology and trying alternative teaching methods, just give stuff a try, and don't forget to celebrate your wins No matter what they are and give yourself some credit. Don't be afraid to reach out for help, there are lots of teachers that are willing to share. To definitely take time for you and of course, don't give up. 
You need to have a plan in place before you try to do remote learning. You also have to make sure to keep up with the students' social-emotional learning. I would definitely say checking in on people first is more important than anything else. We're in an emergency. They're not going to learn all their math facts. You know they'll get it at some point, but right now it's not about that.
So getting everybody on the same page is really important. I wish that we had taken a week just to have a plan put in place before we even thought about remote learning. It's been crazy. I would say my final piece of advice is to stay away from the negativity. This is your new reality, your new normal for now and just mindfulness works better than anything.
Padcaster transforms your iPad or smartphone into an all-in-one mobile production studio so you can create professional-quality videos from your home or anywhere else. Whether it's for distance learning, telecommuting, remote broadcasting or livestreaming -- Padcaster will help you produce high-quality content wherever you are. If you are adjusting to distance learning and have any questions, Padcaster wants to help you! Fill out the form below to get in touch with one of our sales consultants!
Need More Information?
Fill out the form below to get in touch with a member of the Padcaster Team.