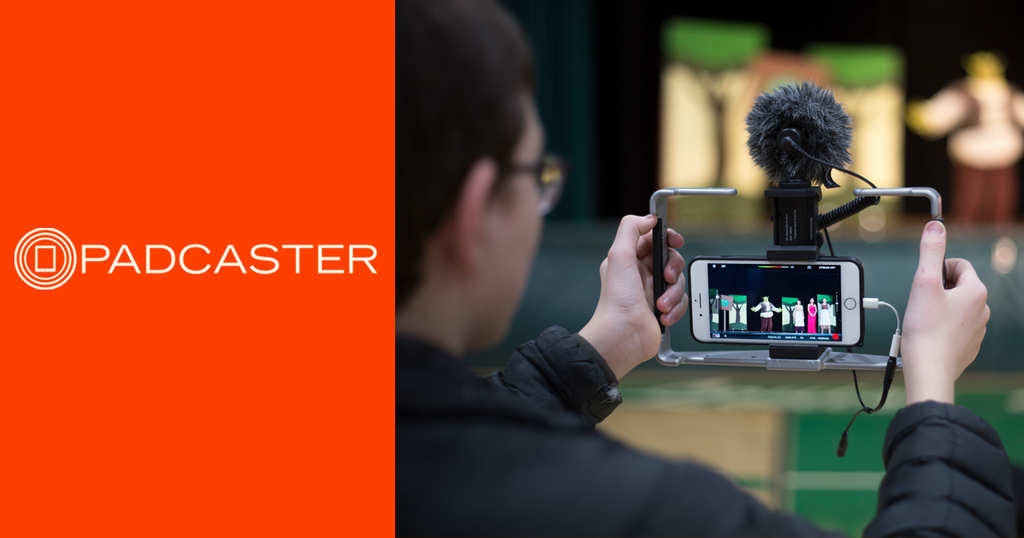 Teaching drama online became easier and more widespread during social distancing. Drama clubs resorted to theatre online out of necessity, but now we're seeing more benefits, including reaching a wider audience and being able to connect with students at home.
With the ease of access to livestreaming hardware and software, schools have even more ways to enjoy and share their students' performances to larger audiences. And with relaxed copyright rules for schools, livestreaming plays, musicals, and performing arts programs is easier than ever. 
Benefits of Livestreaming School Plays & Musicals
Livestreaming is a great way to broadcast performances to the world, and the benefits go beyond just having more eyes on the actors and reaching friends and family across different time zones.
A few of the benefits of using technology to bring the drama classroom to a wider audience includes: 
Livestreaming your pre-opening night performance can reduce opening night stress. This gives everyone a chance to get through the first performance jitters so they are more confident for the real deal, and to get feedback from a "test" audience.

Livestreaming lets your students share performances of all kinds with family and friends from all over the world. This is a great way for them to include those that are unable to travel due to physical or financial limitations.

When you livestream performances you can easily share them on social media and other online outlets.This is a great way to attract attention from press eager for positive local interest content.  

It's easy to turn your livestreamed event into a recording that can be shared with family or even sold as a fundraiser. 
Other Ways to Use Livestreams in the Drama Classroom
Sharing performances with people who can't attend in person is only one of the ways your organization can use livestreaming. A recent interview with educators from Parkland School District in Allentown, Pennsylvania, talked about some of the creative ways they use livestreaming technology beyond using it for high school sports.
Teach drama lessons online. Use your video camera, smartphone, tablet and software to connect actors, producers, directors, and teachers for table reads and online drama classes. After rehearsals, use the technology to connect from home to discuss how to improve your performances.

Livestreaming performances allows you to create coaching videos to improve future shows. This is a great way for actors, musicians, dancers and other performers to quickly spot problems and improve their skill level. Instructors in Parkland's theater program use their Padcaster livestreaming equipment to teach students skills like blocking, staging and framing. 

Students can capture performances to create portfolios. This can help them audition for new roles and apply for college performing arts programs. Parkland's theater students use their department's livestreaming equipment to create audition videos  for top colleges around the country.
Additionally, livestreaming is a great tool for building confidence and giving students something to be proud of. Afterall, through livestreaming they can get comfortable with being on video and in the spotlight in front of much larger crowds.

Check License for Expanded Permissions to Livestream Plays
It's easy to see the benefits of livestreaming events, but for many people the technology to make it happen seems intimidating. Then there are copyright issues around broadcasting plays and other performances. Fortunately, not only have restrictions regarding broadcasting plays been loosened up due to COVID-19, the tech needed to make livestreams happen has never been easier to use. 
Since COVID-19, many theatrical licensing companies have relaxed restrictions so that plays could be livestreamed. For example, TRW allows schools to livestream any title in their catalog in conjunction with their standard performance licenses. So, check with whatever organization granted your organization permission to perform a copyrighted work and ask them if this has been expanded to include livestreamed performances. 
Tools for Broadcasting School Theater Online
Keep your livestreaming set up as simple as possible. For example, with Padcaster you can actually use your iPad to easily set up a powerful, mobile production studio. Test your setup before you need to go live, but make sure you do it under conditions similar to what it will be like for your broadcast. If you're going to be broadcasting outside during the evening, test during this time so you can account for variables like noise, lighting and weather.
The Padcaster Studio for iPads includes a full mobile studio setup, complete with audio and video accessories, as well as tripods, lenses, a teleprompter that works with a smartphone, and a carrying case. 
The new Padcaster Producer App completes the hardware by giving you the software tools you need for tracking your actors, adding text overlays and more. Explore the Padcaster Producer App.
Padcaster transforms your iPad or smartphone into an all-in-one mobile production studio so you can create professional-quality videos from your home or anywhere else. Whether it's for distance learning, telecommuting, remote broadcasting or livestreaming -- Padcaster will help you produce high-quality content wherever you are. If you're considering having an event online such as a wedding, religious service, graduation, or 'gathering' of any kind, Padcaster wants to help you! Fill out the form below to get in touch with one of our sales consultants!
Need More Information?
Fill out the form below to get in touch with a member of the Padcaster Team.