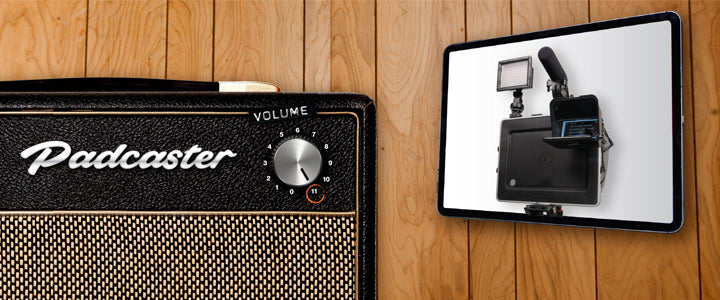 Padcaster® is turning things all the way up to 11 in 2019! Our product line now includes  Padcaster® for the new 11-inch iPad Pro. Mobile filmmakers can now take advantage of all of the latest features of the new iPad while still benefiting from Padcaster®'s extensive catalog of accessories. Launched this week, you can now purchase the first comprehensive video solution for the 11 inch iPad Pro.
Just as with previous models of the Padcaster®, this newest version is available in the Studio bundle, as a part of the Starter Kit and as an individual case. Padcaster® for the 11-inch iPad Pro easily fits into the Padcaster® Backpack along with all the other studio components.
Already have a Padcaster®? No need to purchase a whole new Kit! Use an existing  Padcaster® rig with your new iPad with the Padcaster® Adapter Kit.
The 11-inch iPad Pro includes a host of new features both inside and out. See below for some of our favorites!
New 11-inch Apple iPad Pro Special Features: 
SCREEN: While the 11-inch iPad Pro isn't much larger than the 9.7" and 10.5" models, the screen stretches from end to end, creating a significantly more real estate to view footage and edit on the iPad while in the field. Similar to the iPhone XR, the 11-inch iPad Pro is the first iPad to feature a liquid retina display.
CAMERA: Most importantly, the camera on the 11-inch iPad Pro boasts quite a few new features. You can now snap portrait Mode Selfies, capture 4K video at 60 frames per second, and shoot video in low-light with the 12MP sensor.
USBC: The lightning port has been swapped out for USBC. This not only means that you can attach accessories more easily, but also that the device charges much faster. Additionally, you can use your iPad as a power source for peripherals, similar to a laptop.
STORAGE: There is now a 1 TB storage option, much improved from the previous capacity of 512GB. This allows you to shoot more footage without needing to transfer your footage.
SPEAKERS: While the Padcaster Headphones are recommended for optimal sound, new and improved native speakers on the iPad mean that you can review footage with a group and actually hear what you shot.
How to Set Up Your 11-inch iPad Pro for Padcaster
by Marin Morales
Need More Information?
Fill out the form below to get in touch with a member of the Padcaster Team.