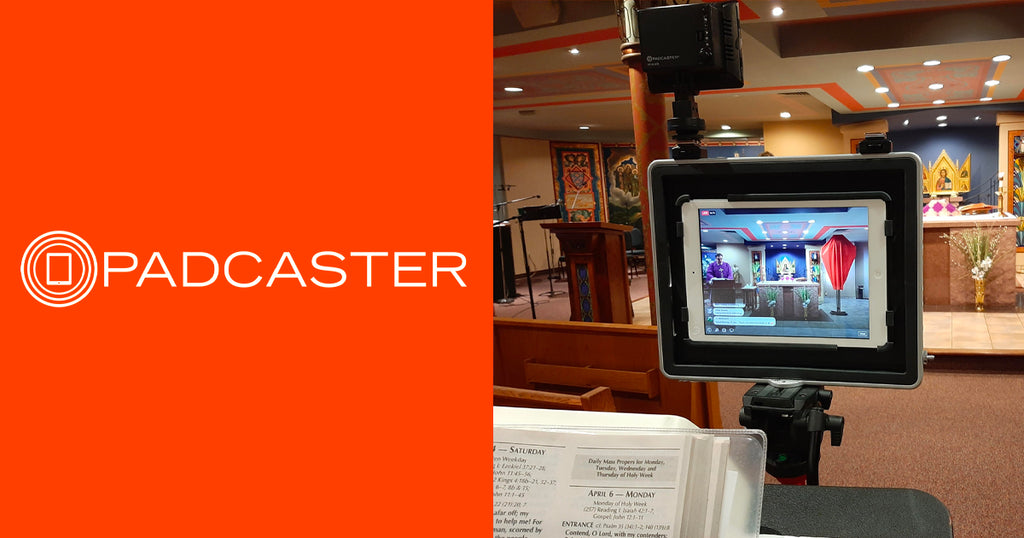 Community is the cornerstone of any church congregation, and video technology is the perfect tool for keeping that community strong. According to a recent Pew research study, 72% of American regular church-going adults reported attending a religious service via a video or livestream in July 2020. It's clear that there is a growing audience for online religious connection, and livestreaming worship services, bible studies and other church events will help fulfill these spiritual needs. The shareability of video makes it a powerful tool for church outreach and provides religious leadership with the opportunity to get creative with new ways to deliver messages. Thanks to easy to use production tools like iPads, smartphones and Padcaster, hosting a high-quality church livestream is now easier to do than ever before. Here are four reasons why you should livestream church events and services. 
Reach Members Of The Congregation Who Are Unable To Attend 
Due to 2020's social-distancing restrictions, as well as mobility and illness issues, attending church in person can be an obstacle for many congregation members. By livestreaming church events and sermons, members who are physically unable to attend can still tune in and participate. Unlike recorded video, livestreaming is a form of two-way communication, so audience members can participate as they watch. Platforms like Facebook Live also allow viewers to comment, so members can engage from home. Some churches even welcome viewers to introduce themselves in the comments at the beginning of the service.
Cultivate A Strong Online Community 
The primary way to strengthen any community is to be active in it, and online communities are no different. By holding virtual church services, faith gatherings and livestreaming important messages, churches can easily strengthen their online presence on a larger scale. In addition to streaming services, video enables churches to produce shorter and more unique content than they may have in the past. Daily videos can easily be shared in Facebook groups or sent out via email. For those who may not have it in their schedules to attend church more than once a week, these daily visual touchpoints with their church will strengthen their bond to their community. 
Grow Your Church's Membership 
Online content is easy to share on a wider scale and allows you to reach people beyond those physically inside the church. Attracting young people to church is always on the minds of church leaders, because they are the future of the congregations. Millennials in particular spend a lot of time online, making the internet a great place to reach them. Livestreaming is the perfect solution because it enhances an event that is already taking place. Community members can easily add a livestreaming component to any event that is already occurring on location. 
Livestreaming Church Services Is Easier Than You Think  
The process of livestreaming may seem difficult and out of reach but with so many easy-to-use devices like iPads and smartphones available it's actually very simple. With the right additional equipment, like the Padcaster, churches can take advantage of the tools they already have to create high-quality and effective video content for their communities. Facebook groups and YouTube channels are easy and free to set up, giving churches accessible platforms from which to livestream their messages. 
Livestreaming is a critical practice for the modern church, and fortunately, congregations already own the tools they need to start filming and streaming videos. By opening lines of virtual communication on social media platforms, worship leaders can widen their reach and grow their audience. Video enables congregation members to stay socially distanced while still feeling connected and supported by their fellow churchgoers. With the help of additional tools like Padcaster, churches can easily produce high-quality livestreams to strengthen their spiritual communities and spread their messages of hope. 
Padcaster transforms your iPad or smartphone into an all-in-one mobile production studio so you can create professional-quality videos from your home or anywhere else. Whether it's for distance learning, telecommuting, remote broadcasting or livestreaming -- Padcaster will help you produce high-quality content wherever you are. If you have had an event that has been moved online due to COVID-19 such as a wedding, religious service, graduation, or 'gathering' of any kind, Padcaster wants to help you! Fill out the form below to get in touch with one of our sales consultants!
Need More Information?
Fill out the form below to get in touch with a member of the Padcaster Team.