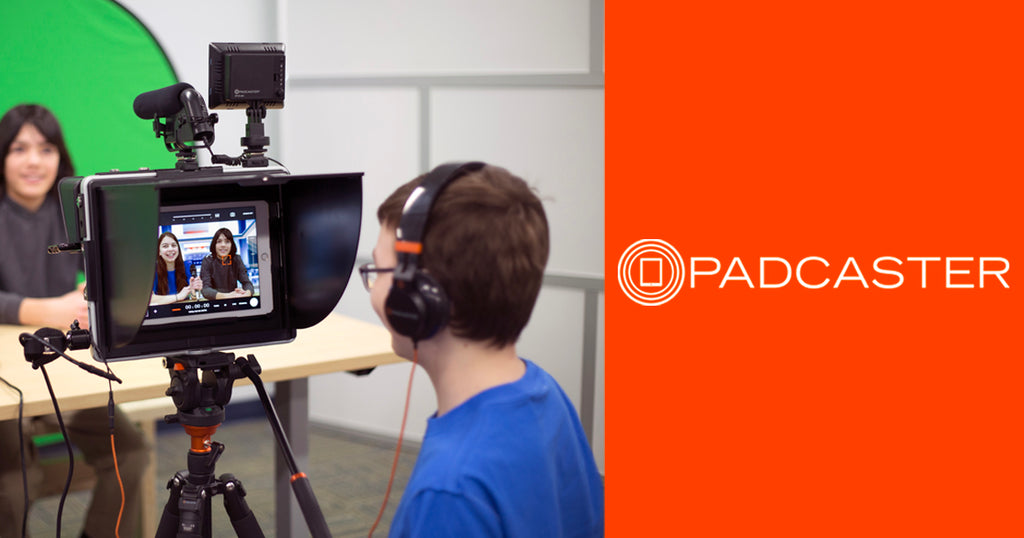 Anne Moore recently took a new position as Library Media Specialist at Ranchview High School in Irving, Texas. After using and loving Padcaster at her previous school in Florida, she plans to bring Padcaster to her new school in Texas. We spoke with Anne about the many ways she has used Padcaster in the past and what she plans to do with video in the future. 
Tell me about your role at your new school? How will you be using technology in your new role? 
I'm a full-time library Media Specialist at my new school. My role is to support teachers and students, as well as the mission and vision of the school, by curating and recommending print and non-print resources, and recommending and assisting with technology.
When did you first get started experimenting with video production? 
I started experimenting with video production about ten years ago in Tennessee. My students and I created public service announcements as part of a "persuasion in the media" unit we were working on. I had never really worked with video production tools before so we started very simply with MovieMaker and videos taken from cell phones. 
In Florida, we conducted daily newscasts for the school and events. I then added vlogging to my curriculum by having students create Book Talks, video journals, and instruction videos. This is when I was awarded a Pascaster set-up by my district media supervisor. 
What were you using Padcaster equipment for at your previous school? 
We used the Padcaster to film vlogs, book talks, video instructions, plays, games, events, and news interviews. We used the Padcaster to do a walk-through video of our school to have on file for safety and security. We filmed news interviews for our newscast, and recorded events like graduation and parades. I uploaded the videos of the events, and our school community were able to watch the events on our district network. 
What's your favorite project you've ever done with Padcaster? How do students respond to the equipment? 
My favorite project that I've ever done with the padcaster are interviews, news segments, and public service announcements. It's super maneuverable, so it's basically a rolling studio. Also, because it uses an iPad, students are already familiar with how it works. Students can be really creative when they have use of a green screen and teleprompter, and the Padcaster set-up makes them feel like professional journalists.
How are you planning to use video at your new school? 
I intend to encourage teachers to incorporate video into classes via PSAs, reader's theater, book talks, projects, and persuasive speeches. I'd like to bring a daily newscast to my new school and use a Pascaster to record it and conduct interviews. Because vlogging has become so prevalent in society, students could benefit from creating vlogs for gaming, culinary arts, engineering, science, and visual arts. I also plan to continue to use it to film games and theater programs when Covid restrictions allow.
Why do you prefer using iPads and Padcaster over traditional camera equipment? 
EASE OF MANEUVERABILITY! It's compact and portable! The Padcaster glides across the floor and can get in and out of small spaces very easily. We can take the equipment to the interview, instead of having to bring the interview to the studio.


What advice do you have for other educators who are getting started with video at their school?  
Find a project that motivates students and teachers. It only has to be one to start. Don't be afraid to let kids handle equipment and learn as they go! They will show you things you didn't know. Be creative! See how people are using video on social media, in life, and in the world of work, and find ways to incorporate it into lessons and activities. 
Need More Information?
Fill out the form below to get in touch with a member of the Padcaster Team.