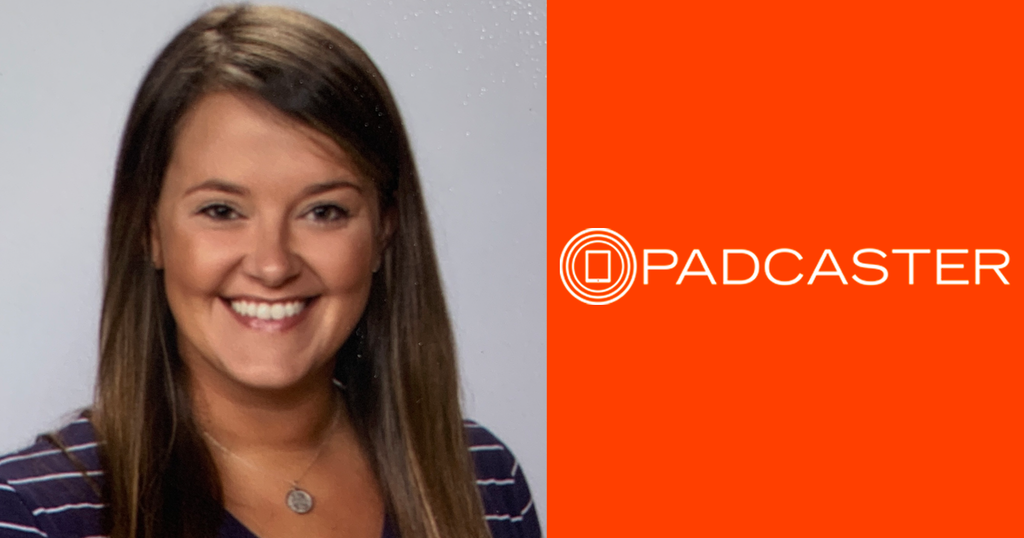 Heather Gros, Middle School Media Literacy and Innovation Technology Educator at Ascension Episcopal School in Lafayette, Louisiana, is dedicated to expanding media literacy and spreading positivity with video. Ms. Gros and the other technology educators at Ascension have designed a robust media program to inspire and develop a love of technology in their students. From assisting student-run news programs to assigning in-depth family interviews, Ms. Gros manages a wide variety of video projects aiming to educate and keep her students' spirits up. Utilizing the Padcaster Starter Kit, Ms. Gros is expanding media literacy by exposing students to video production at multiple grade levels. Padcaster spoke with Ms. Gros about Ascension's media programs, and the unique way video can bring people together. 
What equipment do you use to produce your media literacy programs? What drew you to using the Padcaster?
As an Apple Distinguished School, we use Clips, iMovie, and Final Cut Pro to edit our segments. I first laid eyes on the complete Padcaster setup at the LACUE (Louisiana Association of Computer Using Educators) conference in New Orleans. It was love at first sight! I knew it would be a great tool for my students to use, and it has proved to be practical and efficient time and time again.
What grade level are students introduced to video production and how have the younger students responded to the equipment?
Our Media Literacy program begins in 5th grade. Our lower school students are extremely interested in using the equipment and will hopefully get their chance to learn how to operate the Padcaster this year. I also teach 3rd and 4th-grade Innovation and Technology. Although our school performances, musicals, and plays are canceled and our lower school students are not allowed to switch classes or come to our studio due to COVID-19 restrictions, I plan to bring the portable green-screen and Padcaster to their classrooms to record and edit reader's theater plays.
How do students get involved with working on the shows? Is it a broadcasting class or a club?
All 5th grade students have an Intro to Media class for one quarter. In 6th grade, students have a choice of two enrichment classes, one per semester. In 7th grade, students choose one enrichment to focus on. My 7th grade students run the majority of the show's coverage, but my 6th and 7th-grade projects add interest, variety, and entertainment. Blue Gator Buzz is a Media Literacy class. Blue Gator Broadcasting is a club of volunteer assistants to Brad Williams, our Media Director.
How does the rest of the school watch these programs? Are you streaming them and posting them to a social media platform? If so, which platform do you prefer to use?
Blue Gator Buzz is shown in 1st-7th grade classrooms after pre-recorded chapel on Fridays through a YouTube link. Chapel and event live-streams are mostly live links. It is a public channel so families can tune in and subscribe to view. We are currently filming episodes for Season 5! 
Are there any other video projects that you would like to mention? 
Our 5th-grade students are creating a video for National Principals Month to honor our downtown Director. They have been collecting interviews and recognizing the essential role that our director plays in making our school great.
One of my favorite projects is a 5th grade Oral History Project. After discussing and evaluating interviews and documentaries in class, students conduct and record an interview with an adult (parent, grandparent, neighbor, teacher, etc.) focusing on change over time.
Students record the interview at home. We upload, edit, and produce an iMovie together in class. This project has been cherished by 6 years of Ascension students and families. Since starting this project in a 5th grade ELA classroom, I've had two students email me for a video link to share after their loved ones' passing.
After studying The History of Music Videos and analyzing examples, we are working on Music Videos with a Message. It's been fun to watch students bring lyrics to life!
Our 7th Grade Media Literacy students are working on the NPR Student Podcast Challenge. I look forward to hearing their stories in a new way!
How has the pandemic affected your media programs? What have you done throughout this process and how has your program changed? 
Due to the pandemic, our students stay masked and socially distanced while keeping equipment sanitized after use. We have added plexiglass dividers between computers in the lab and limit prop/costume use. Although our school events are limited, our school has been flexible and innovative in finding new ways to stay connected and keep the Blue Gator spirit alive. We count on our Padcaster to keep up socially distant during student interviews. 
Are there ways your school is using video successfully that other schools might not have thought of? 
We send video postcards from teachers to students in the summer welcoming them back to school. This year, we sent out parent orientation videos. We also create video tutorials and video postcards for parents throughout the year, including updates from the Head of School. 
Padcaster transforms your iPad or smartphone into an all-in-one mobile production studio so you can create professional-quality videos from your home or anywhere else. Whether it's for distance learning, telecommuting, remote broadcasting or livestreaming -- Padcaster will help you produce high-quality content wherever you are. If you are adjusting to distance or concurrent learning and have any questions, Padcaster wants to help you! Fill out the form below to get in touch with a Padcaster representative. 
Need More Information?
Fill out the form below to get in touch with a member of the Padcaster Team.