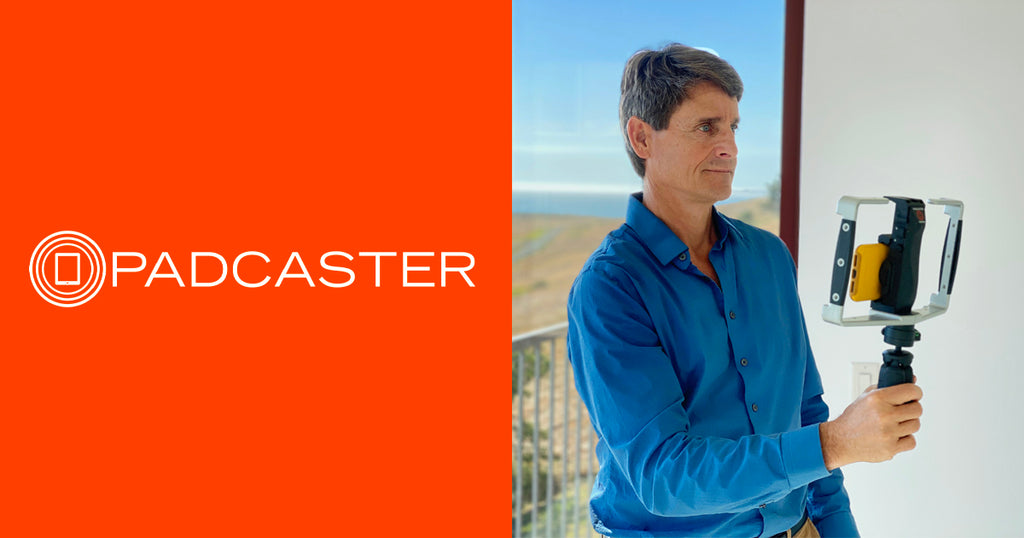 Property walkthroughs are one of the most important tools in a real estate agent's marketing arsenal and can easily be made virtual with the right equipment. The onset of COVID-19 has only proved how important and effective virtual home tours can be. Lance and Tigg Morales, a husband and wife Real Estate team with more than 64 years of combined experience, utilized their iPhones and Padcaster Verse Mobile Media Kit to revitalize their video marketing strategy. Primarily selling homes and properties in the rural Central Coast town of Cambria, California, Mr. and Mrs. Morales use a combination of video walk-throughs and private live-streamed home tours to connect with clients all over California. Padcaster recently spoke with the dynamic Real Estate duo to discuss how they made the transition to filming more of their own video marketing materials, dealing with the social distance requirements, and why they love their Padcaster Verse. 
Had you filmed your own marketing videos prior to owning the Padcaster Verse? 
Tigg: We have used a video camera in the past but editing and distributing the videos ourselves was very difficult. We didn't end up filming our own videos very often until we got the Padcaster Verse.  
Are the virtual walkthroughs used as a replacement of sorts for an open house? Something that you could send to a client that lives far away?
Lance: Definitely, but they are also a key part of how we do business under the Covid-19 restrictions. We were made an essential business, but the way that we can still operate is that people have to see the property first virtually before they physically go inside a house. It's a requirement. In light of that requirement, we have looked for tools to enhance that first virtual experience.
Are people required to see a full video walkthrough or can it be just still photographs? 
Lance: It can be just stills but it's always a good idea to give a potential client as much visual information about a house as possible.
Why do you think it's important for agents to have the ability to produce their own high-quality video? 
Lance: A couple of factors are really important when it comes to being able to shoot your own video. One is you can capture what you want to be shown versus having a professional do it and only getting what they give you. You can be there directing them the whole time but if you are doing that, then you might as well be shooting the video yourself. There's the huge cost saving factor, obviously, if I can shoot it myself. Finally, I control the turnaround time because I'm not hamstrung to the videographer's schedule. That's especially important when you consider how much the weather and the time of day can affect the way a house looks.   
Tigg: Before equipment like the Verse and easy editing software, there wasn't really an option for the layperson to do it. You had to hire a videographer because we simply didn't have access to the high-quality equipment we needed to do it ourselves.
What makes great walkthrough videos?
Tigg: I think it's when someone can actually see the layout of the house.  For example, you might have to walk down a long dark hallway before you get to the living room, with still shots you'd never know that. Video really gives you the essence of the house a lot more. Things like the floor plan, and the amount of light that comes in. It's truly a better way to see a home than just with photos.
Lance: It's important to try and visually imitate how someone would experience the house if they were there walking through it for the first time, which is easily achieved with video. 
Before you go into a house, do you map out how you're going to walk through it? 
Tigg: You learn very quickly, in the beginning, to complete a walk through first without filming it. That way you can open any doors you need to and turn on any lights etc.
Lance: Otherwise it's just a video of you opening doors and trying to, awkwardly, avoid mirrors because you have to be careful about catching your reflection. You're not allowed to have your own image in any of these videos or photos because what you're doing needs to be what's called "unbranded" which means there's no self-marketing, no signage, no picture of you. If the person filming is a really well-known agent then it's like marketing yourself not the house and that's a completely different thing.
To return to your question, we absolutely plan the walkthrough first and turn on the lights, put a fire in a fireplace and make sure the house looks great before filming. Otherwise, you have to keep starting over if you find something out of place or something isn't clean. You have to make sure that the house is looking its absolute best. 

Now that you have the Padcaster Verse Mobile Media Kit will you be making an effort to incorporate videos into more of your marketing?
Lance: Yes, especially because COVID has made video an even more important part of the Real Estate landscape. You want to make sure you're keeping up with the competition to get the listing. If they're using video and their clients say to you, "well, do you do that?" or if they're looking online thinking "Oh wow, this company is doing this, and they really know what they're doing" you may not get the listing on the property. You have to keep up with what's going on in the wider market otherwise you will get left behind. 
How has the Padcaster Verse changed the way you shoot video?
Lance: Well it's interesting because about 15 years ago virtual home tours became a big thing, it was almost like a fad. It made a big splash and then it kind of faded away. Part of the reason it didn't catch on back then was that the virtual tours weren't very high quality and on top of everything, it was expensive.
Tigg: Now the technology and equipment available to us are much cheaper, easier to use and higher quality. But what my husband said initially about when people first started using video and it being low-quality, and hard to use, that's one of the main reasons that I love using the Padcaster Verse. The way it's set up where you have three different ways to hold your phone. I can be more steady with it so I'm not jerking it around and giving people motion sickness. It allows me to enter and go through a room and position my phone in a different way than I would normally if I was just holding it with my hands. I can stand back a little further, keep my arm steady and frame the room in a more artistic and professional way that enhances the viewer experience. I also use it for stills since it's easy to set up and frame shots and because I'm not worrying about awkwardly holding my phone in my hand. I get much better photos with the Padcaster Verse than before.
How has the Verse Mobile Media Kit helped shoot better video and improved interactions with clients?
Tigg: The Verse has made filming bathrooms so much easier because I can stand around the corner, stick my hand out, and still see what I'm taking a photo of and get a good shot. This is super important where there is a mirror, I need to get the shot without me in it. Bathrooms have always been really challenging and the Verse has made it a lot easier.
Lance: Even before COVID, I  would use video calling and do scheduled live video walkthroughs of properties with clients. This was especially helpful for those of us working in more rural towns because most of our buyers come from out of the area.
When I say out of the area, it's not like one town over, they're coming from three, four hours away. In a hot market, the buyer doesn't have the time to take off a two-day vacation or whatever, to just drive all the way up to see a property and go back home. So if you can show them the property through a high-quality live video they are much more likely to make an offer on it than if they were just looking at still photographs.
What would your advice be to other agents who are looking to start filming their listings for the first time?
Lance: Have a plan of attack before you start filming any property. 
Tigg: Plan it out. Make sure you know your path through and have all the lights on, the fireplace going!
Padcaster transforms your iPad or smartphone into an all-in-one mobile production studio so you can create professional-quality videos from or anywhere. Whether it's for telecommuting, remote broadcasting or livestreaming -- Padcaster will help you produce high-quality content wherever you are. Fill out the form below to get in touch with one of our sales consultants!
Need More Information?
Fill out the form below to get in touch with a member of the Padcaster Team.