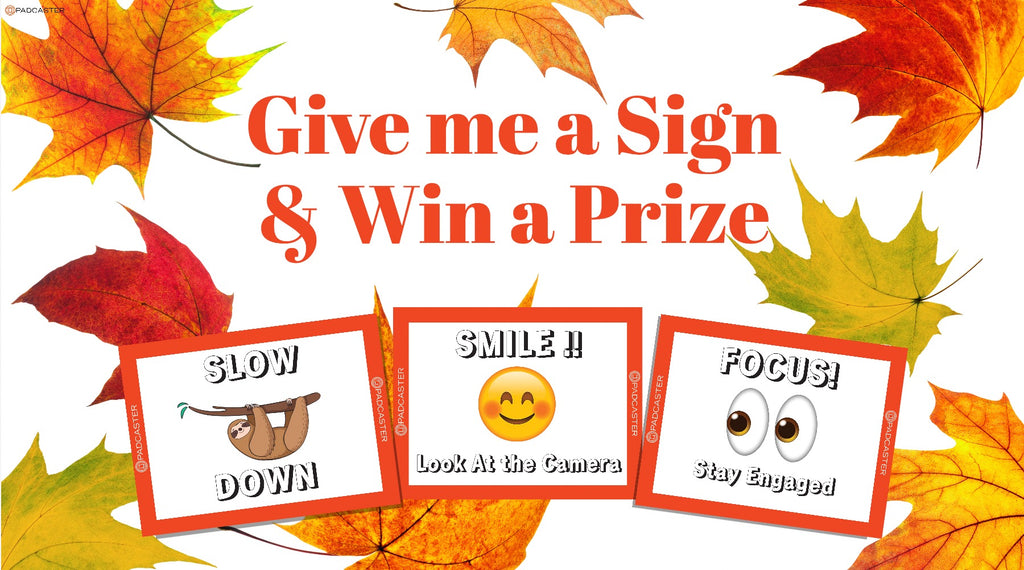 One of our favorite tips and tricks for school video production and live streaming is to print out signs with tips and reminders for your students to use while filming or streaming. Our classroom management signs will have you ready to roll and prepared for your first livestream or recording session.
HERE ARE THE LINKS TO DOWNLOAD THE SIGNS: 
Before you begin your recording or livestream, you should review the signs with your crew AND anchors and explain what they mean and how they will be used.
If possible, print the signs on cardstock and laminate or mount them to a foam board so that they last longer. 
Make sure to select 'Actual Size' instead of 'Fit' when printing to avoid uneven boarders. 
Some teachers like to use these signs and choose one or two to have the crew make or design themselves daily on a Dry Erase board. Students who arrive early love to make the "SMILE! Look at the Camera!" sign using a dry erase board and their own style.



CHALLENGE! (Edit: This challenge has ended) Post a photo of you or your students using any of the following signs from Padcaster on Twitter or instagram by NOVEMBER 10TH! and tag @Padcaster #PadcasterChallenge. Don't be afraid to get creative, the only rule is that the photo contains the sign!

You will be entered into a drawing for a SWAG BAG including:
- Padcaster LED light
- Padcaster G-POD that doubles as a light stand
- Popsockets
- Stickers, Candy and more, all inside a Padcaster drawstring bag!


This is for your "talent" or anchors. It is important for students to smile and look happy. If they aren't smiling, they look nervous, and the audience wants to see a happy face. Also, it is important for your "talent" or anchors to LOOK at the camera and not shift their eyes or appear distracted. It is helpful if you also put a little dot, sticker or arrow on your camera or iPad to remind the students where they should be looking.
This is an important sign to review with your "talent" at the start of any production. Those on camera need to be reminded that they are on camera and the audience can see them. This is especially important when you have more than one anchor. While one anchor is talking, the other anchor should continue to be engaged and listening to the other anchor. If they are not paying attention to each other, why should the audience? Also, when two or more students are on camera and someone is not paying attention or talking to someone off camera or fidgeting, it is distracting to the viewer.


When students get nervous or shy, they often lower their voice. This sign is necessary if the anchor, talent, or speaker is not speaking loud enough for the audience to hear. The crew member who is monitoring your audio can let them know that they need to be louder. (Always do a volume check before you get started, but this reminder helps to keep everything loud and clear.)


A crew member will call this before filming starts, but there will be times when something funny happens or crew may start talking and forget that their voices can be picked. This is distracting to both the anchors and the audience. Once the stream has started, you obviously can't yell "QUIET ON SET" out loud, so this sign is helpful to communicate the message that students need to stop talking.


Many times you will find that your newer anchors are a little nervous or get excited about a topic they tend to talk fast, or read fast if they are using the teleprompter. Hold up this sign to get them to slow it down!


There may be a time when an anchor gets distracted or forgets a line or even struggles with a word or phrase. Just use this sign to let them know it's okay and we need to keep it rolling. Keep it going. You may have a limited amount of time for your show and it is necessary to keep it moving and not have any "DEAD" air. Keep it lively and keep it moving!

Give us your feedback. Let us know how we can help. Submit ideas for future resources so that we can team up, enjoy the beat, and relax! Fill out the form below to get in touch. 
Need More Information?
Fill out the form below to get in touch with a member of the Padcaster Team.