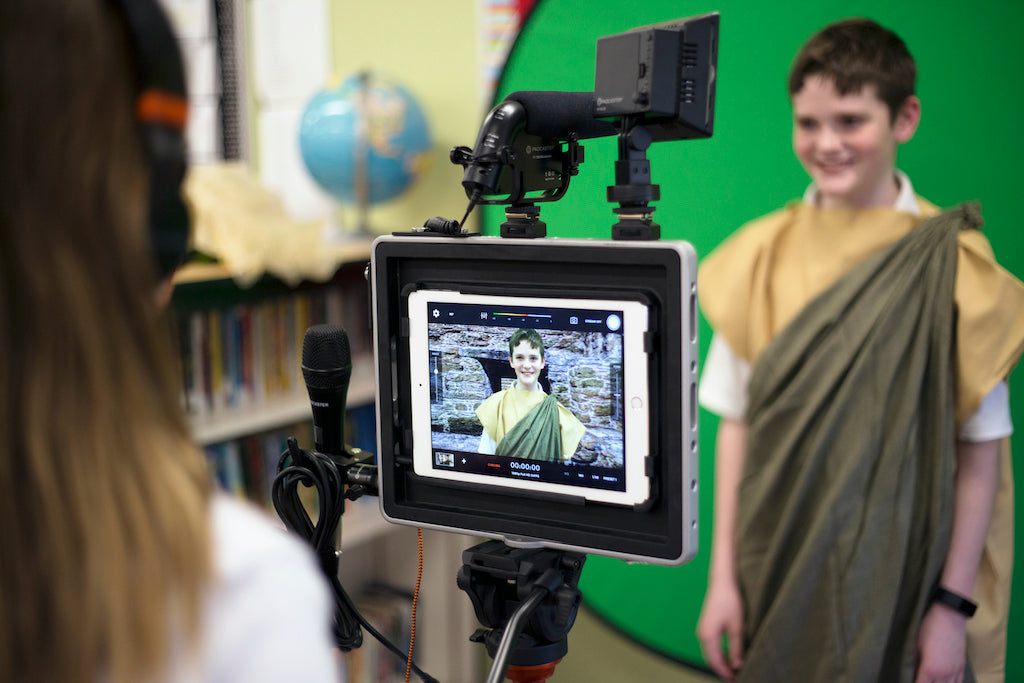 It's that time of year again. Dress up, costumes, candy, and spooky fun. Halloween is the perfect time of year to introduce some creative green screen projects! 
Many educators like to plan green screen projects around certain times of the year or holidays, and Halloween is no exception. 
The following ideas are listed in order of complexity, starting with the simplest and leading up to more involved projects. If you have older students the bottom of the list might be a better fit. 
DRAW THE SETTING 
The best green screen backgrounds are the ones that your students create themselves. Leading up to Halloween, have students draw the home of whoever they plan to dress up as for Halloween. For example if they want to be a prince or princess they can draw a castle, or if they plan to be an animal they can draw the animal's natural habitat. That Tyrannosaurus Rex costume will really come to life when you transport it back 65 million years and drop it right next to a river!
On Halloween when the students are dressed in their costumes they can make short videos in front of their drawings talking about their characters' homes. You can adjust the assignment depending on the grade level. Students as young as kindergarten can simply describe what the characters' homes look like while older students can dive deeper, learning about important storytelling elements such as setting, symbolism and motifs. 
GREEN SCREEN PHOTO BOOTH 
Celebrate Halloween by setting up a green screen photo booth in the library, cafeteria, or other common space. Load up some classic Halloween images into your camera roll or green screen app. Students can come by the booth and take photos in their costumes. 
While this activity is meant to be simply fun and not particularly educational, it can help get students excited about digital media and green screen technology. If your school has a media club or class you could even have students from the group managing the photo booth and promoting their program to younger students. 
GUESS THE COSTUME CONTEST
Leading up to Halloween, have students make a short video of their characters' favorite places using images as green screen backgrounds. Play the videos the day before Halloween and have students guess their classmates' character. 
If your students are too young for this activity or if your school doesn't allow students to dress up for Halloween, teachers can do the activity themselves instead! Teachers can pick costumes related to the curriculum such as historical or literary figures and make short video 'clues' leading up to Halloween. 
VIRTUAL BOOK REPORT OR BOOK TRAILER
Students can choose, or be assigned, a favorite Halloween book to do a virtual book report on using video and green screen. Have students draw their own images to use as backgrounds or find images online, teaching good digital citizenship skills of course. 
Book Trailers work much the same way that movie trailers do and create space for students to really use their imaginations. Plus, Halloween is a great time to learn about suspense in storytelling. After finishing their novel or non-fiction book, have your students create a short video highlighting their favorite themes and scenes without spoiling too much of the story. They can add music, graphics, costumes, or anything that they think captures the heart of the story. The goal is to get other students excited about reading their book. 
We hope you try some of these ideas out and let us know how it goes! Keep in mind that most of these activities can be done from home, so if you have remote or hybrid students they can participate as well. 
Padcaster transforms your 
iPad
or
smartphone
 into an all-in-one mobile production studio so you can create professional-quality videos from or anywhere. Whether it's for telecommuting, remote broadcasting or livestreaming -- Padcaster will help you produce high-quality content wherever you are. Fill out the form below to get in touch with one of our sales consultants!
Need More Information?
Fill out the form below to get in touch with a member of the Padcaster Team.