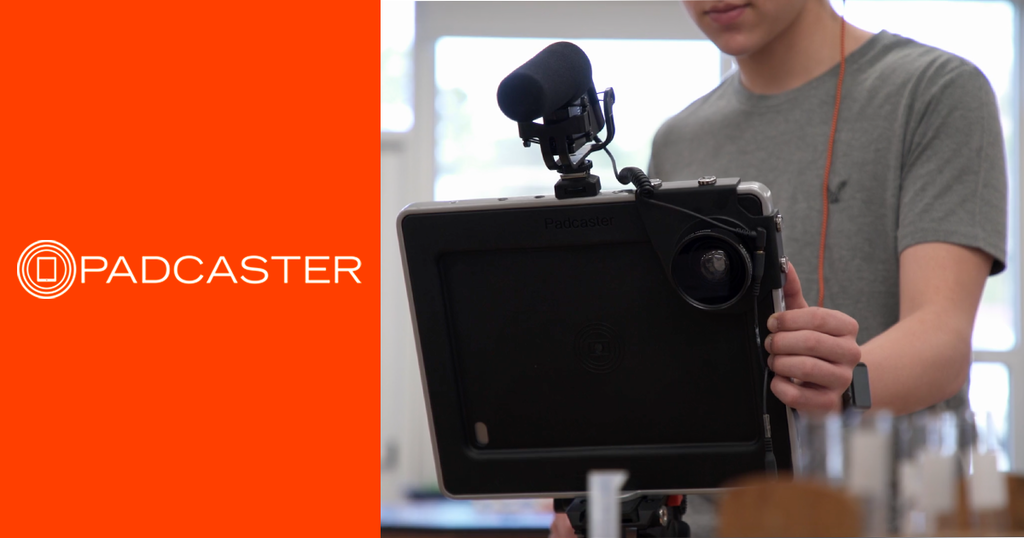 Due to the rise of remote learning, video and livetreaming have proved themselves to be absolutely crucial to both the social and academic well-being of a school ecosystem. At Greenup County High School in Lloyd, Kentucky, math teacher James Collier and a team of other dedicated educators have been increasingly looking to video as a means of enhancing sports, broadcasting programs, and school-wide events. Padcaster caught up with Mr. Collier to discuss his most recent projects, including making sure the Greenup County High School class of 2020 was given a proper graduation ceremony. 
Can you tell me a bit about your background as an educator? What do you do with video and media and how did you get started in it?
I teach Pre-Calculus and Honors Algebra 2. I also have a background in broadcasting and have worked as a sports broadcaster. When I went back to get my teaching degree, I found some sports classes in broadcasting and sports journalism and absolutely fell in love. So that's what got me over to the video side of things. Last year I was at KYSTE, the ed-tech conference in Louisville, Kentucky, and I had been thinking of ways to put together a media class for my high school. I found the Padcaster booth and I thought, "wow, this is exactly what I was looking for without having to spend three or four thousand dollars for a camera set up and everything that we needed to go with it", especially just trying to get our foot in the door.
I got all the information and went back and I spoke with my principal and he said, "it's funny that you mentioned this because I had been trying to find a solution for live streaming events." So, we sat down and he said, "what do you need?"
That's so good to hear. What events are you livestreaming? 
The first thing that we streamed live was the Veteran's Day program that our school hosted. We livestreamed the election and then started streaming basketball games, eight basketball games total, and then we started doing the same thing with student news. Our student news program twice a week on YouTube.
What made you decide to do a virtual graduation?
We discussed several different options. We talked about a drive through graduation and about the possibility of postponing the graduation to possibly late June, July or early August, but we had seven members of our graduating class that will be leaving to the military June 1st. After looking at all the options, and taking into account our students going into the military, we found that virtual graduation was by far the best solution. It was the option that made a graduation ceremony a reality for most students. 
What software do you use to put videos together?
My editing platform is WeVideo. We use that for everything that we do. When I put together the segments I placed a layer over the students with their name in our school colors.
For our graduation ceremony, each student was onscreen for about 30 seconds on average and then we transitioned off to the next student from there. Once that is completely finished up, I'll render it, then I'll export it in and drop it into YouTube. Once it has been uploaded to YouTube we will share the link through all of our various social media channels throughout the school district. We want to make sure that our students and their families can, if they wish, watch the ceremony. Since it is online they will also have the opportunity to watch it whenever they want.
What equipment were you using to record the graduation ceremony?
First off this was a multiple camera operation, I had two Padcasters set up with one filming the center stage so when the graduates and the parents met that would be the main focal point of that spot. Then I had a Padcaster that was focused on the approach of the student once their name was called and they walked up the right side of the ramp. From there I would transition from the side Padcaster to the front Padcaster. All of this was being controlled through the platform of Teradek. Teradek is what I primarily use for all of my multi-camera operations.
Mr. Collier's dual Padcaster setup for the Greenup Count High School graduation ceremony
How are parents and students reacting to the virtual graduation, were people excited about it? What's been the reception with it, with what you and your team have done?
A lot of people that were involved, including the faculty, were very optimistic. But you will always have your pessimistic side there too saying "how are we going to pull this off and make it seem like a real graduation?" You know, it's not easy to take it to take a gymnasium built to seat 4,000 people and put 10 people inside of it and make it seem authentic.
Do you think you will be live streaming or recording more events in the coming years?
Absolutely! Originally our media class was going to be responsible for streaming the events, had the school year gone off the way that it was supposed to. That was already a conversation that I had been having with my principal. When the pandemic hit he asked me if pulling off a virtual graduation was possible? I said, absolutely, we can pull this off no problem.
Hopefully in 2021, we will get to go back to normal and be able to do both an in-person graduation and a virtual graduation, just like some of the other livestreams we've done throughout the years already.
What would be your biggest piece of advice to other schools who are considering live streaming events in the future? 
The first thing I would recommend is having a good collection of faculty members, district members, student council members, people that represent all parties involved and really find out what the end goal is. You know, do you want this to look as authentic as a live event has looked in the past? Or is it something that is okay with looking a little different from previous events? If you want it to look different then let's make it look different. You then kind of have to work backward from there.
Try to really understand what you want your event to look like, then figure out the logistics of how to get it, and go from there.
Watch the Greenup County High School 2020 graduation video
Padcaster transforms your iPad or smartphone into an all-in-one mobile production studio so you can create professional-quality videos from your home or anywhere else. Whether it's for distance learning, telecommuting, remote broadcasting or livestreaming -- Padcaster will help you produce high-quality content wherever you are. If you have had an event that has been moved online due to COVID-19 such as a wedding, religious service, graduation, or 'gathering' of any kind, Padcaster wants to help you.  Fill out the form below to get in touch with one of our sales consultants!
Need More Information?
Fill out the form below to get in touch with a member of the Padcaster Team.