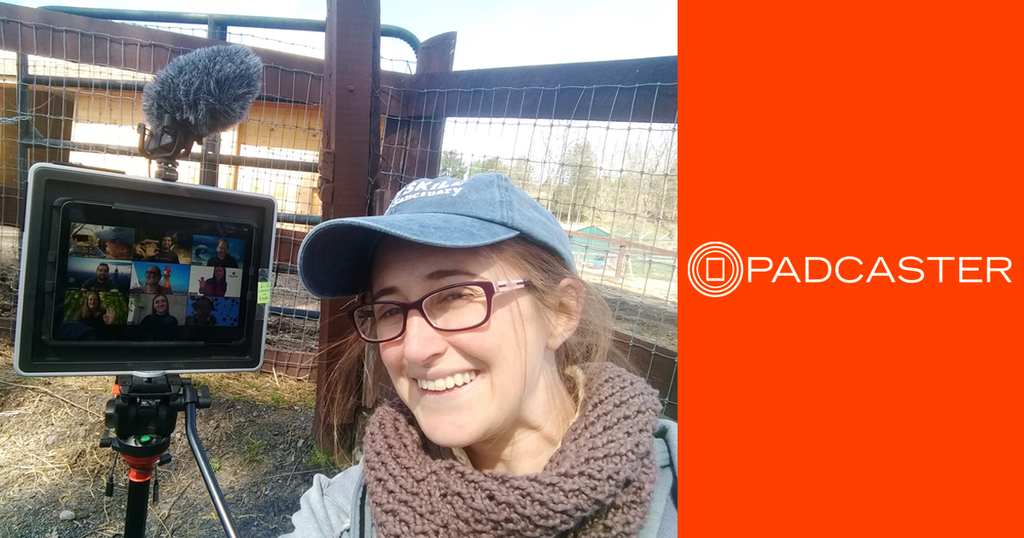 Padcaster recently caught up with the dedicated and energetic staff at Catskill Animal Sanctuary to discuss how they have been utilizing video as a tool to expand their businesses via virtual tours, as well as using livestreaming as a way to bring joy to people all over the world. The Catskill Animal Sanctuary has not only saved hundreds of animals but has also been a source of educational opportunities to schools and the general public in the form of virtual and in-person tours. Read more about their journey with video below:
Catskill Animal Sanctuary has been giving virtual tours and filming videos before the COVID19 crisis, what was the initial reasoning for the tours? How has your relationship with video tours changed since its onset?
As a sanctuary, we are always striving to incorporate humane education into all that we do. We had been doing in-person sanctuary tours for the general public as well as groups of all sorts - mostly schools, but also scout groups, family groups, and more. But for various reasons, not everyone can actually get here to the sanctuary, mostly due to geographical and financial limitations. At about two hours north of New York City, we're close to a major population center but not quite close enough that schools could easily come and visit - nevermind all of the other groups who live further away who would be interested in visiting! Add that to the high cost of bussing for students and the Sanctuary's need to ensure that our programs are financially viable, and many groups would never be able to visit. 
So, virtual sanctuary tours were put forth as a way to reach these groups, as well as to build a program series for groups who would be able to come and visit, with, for example, four virtual sessions followed up with an in-person sanctuary tour that would allow for a more in-depth experience than the sanctuary tour alone.
We were ready to end the pilot and roll things out on a much larger scale as the rumblings of COVID-19 were growing louder and louder. One week before the program launch, both schools and the sanctuary were shut down. This threw a bit of a wrench in everything - while we were ready to offer virtual programs, teachers and students had had their routines and plans upended. 
We quickly put together a plan to have public live streams several during the week to maintain our connection with our supporters, and once teachers had gotten their feet back underneath them, we started to get interest in virtual field trips.
Being able to use the Padcaster has been a huge help especially in our public live streams, as we're able to use several features of the hardware and some live streaming applications that were suggested to us to give our supporters a unique experience.  
What are the different kinds of videos/tours that Catskill Animal Sanctuary films?
Public livestreams, via Youtube through Live:Air - We've been doing 2-3 of these every week since mid-March. They are generally half an hour long and include a focused visit with specific rescued residents. We rotate which of the animals is the star of the show. Generally, these programs include an introduction to the sanctuary and our mission, rescue stories of the animals who are in the program, and all about who that animal is as an individual and what their species is like. Viewers are able to comment on the video to share their thoughts and ask questions, which we respond to in real-time. With Live:Air, we've also inserted pre-filmed videos and a variety of overlays to show before and after pictures of animals, cute things that they do, and written information like our website and how to vote for awards that we are nominated for.
School and group programs - These use a variety of apps, depending on what the group is used to using (Zoom, GoToMeeting, Google Meets, etc.). These programs are adapted for the individual group depending on their age, interests, and type of group (birthday party compared to classroom, for example). For school programs, the programs are presented to support New York State educational standards. Topics are similar to the livestreams, though more formalized than the more flexible livestreams - about the sanctuary and the animals as individuals and as a species, plus other connections to environmental and public health issues. Since groups are smaller and in a meeting-type atmosphere, students are able to ask and answer questions aloud, or to use the chat if they'd rather do that.
Goat 2 Meeting - These are similar to the school and group programs. They are booked with us through Sweet Farm's program and include a variety of group types - schools, businesses, nonprofits, birthdays, anniversaries, family gatherings, and even unique visits like a ballet class and or a happy hour in Germany. These programs are either 10-minute cameos that typically feature just one animal, or  20- to 25-minute sanctuary tours that provide the opportunity to meet several different species.
Why did you choose the Padcaster system, over a more traditional camera set-up?
We were looking for some hardware that met a number of criteria, including (1) allowing for a high amount of interactivity between the presenter and the audience, (2) the ability to stand on its own without being held (or without being knocked over by a curious animal!), (3) mobile, (4) sturdy, and (5) not frightening to the animals. 
Our former development director knew about your products and suggested it to us. After some research on the Padcaster and some other options, we determined that the Studio bundle would meet these needs while also featuring improved audio, options for teleprompting, and more.
And, after testing it out with the animals, they do well with it! The sheep are still a little skeptical, but many of the other animals - such as the cows, goats, and pigs  - find it interesting and try to nibble on it or lick it. The tripod legs get quite muddy when we're doing a visit with the pigs, and we've had to clean cow saliva off of the microphone. One of the goats has made it his personal mission to knock over the Padcaster.
Are the sanctuary tours live or recorded? What are the benefits of filming one vs. the other?
All of the Sanctuary's virtual tours are entirely live - these are the tours that we're hosting on Zoom, GoToMeeting, Google Meets, and other platforms. People share the link to their video call with them and we join, either as a planned special guest or sometimes as a surprise. 
When we do live streams through Live:Air, we sometimes insert pre-recorded videos into the otherwise live footage. This allows us to show animals who are out of the range of the sanctuary's wifi and give a look into the animals' behavior and lives. For example, at our second property, there are a number of cows who the public doesn't get to see when they visit in person. These cows are also out of the range of the internet. So, we used the Padcaster to prerecord some videos of the cows. Then we were able to cut those videos into the livestream, while we recorded live from a goat field within internet range. 
Why do you feel it's important for students to tour the sanctuary even if they can't be there in person?
Farmed animal sanctuaries provide a unique opportunity for students to meet animals in a unique context. When students are familiar with farmed animal species - cows, chickens, pigs, etc. - they often only think of them as animals to be used by humans. Or they think of them as lacking the emotions and feelings that they recognize in the cats and dogs with whom they share their lives. Sanctuaries, where the animals can be themselves and live in peace and comfort, allow the students to understand and connect with the animals just as they are.
Some students have very little understanding of animals in general because they have very little exposure to animals in their lives. This can be especially true for students who live in cities, and who likely wouldn't have the opportunity to visit in person due to distance or financial limitations. So, by virtually meeting the animals, they can be exposed to the animals as they really are.
While the virtual tour can't provide the full experience of an in-person tour, it still gives students the opportunity to connect with the animals in real-time. Some school groups will choose to schedule multiple virtual tours for their students, each focusing on a different topic or species related to the Sanctuary. In these cases, students often remember animals throughout the program series and ask about some of them, even weeks after they've first met those animals.
What opportunities virtual tours opened up for you? Are you able to show animals you can't in person?
There are some animals who wouldn't normally be open to meeting large groups of people. For example, the sheep herd consists of 15 sheep with a wide array of personalities. There are those, like Bertha, who are afraid of humans, and those, like Scout, who loves attention. The noise and movement of a larger group tour can be enough to startle even the sheep-like Scout,  which is generally enough of a signal for the entire herd to run off. 
For virtual visits, though, there's just one staff member (either Lauren or Kaden, both of whom are loved by the sheep) plus the Padcaster. While it did take some time (and treats!) for the sheep to become accustomed to the Padcaster, most of them are now, and they readily approach the camera. So, students are able to meet the sheep who under normal circumstances would run away from them.
We're also able to introduce the students to some wonderful, friendly goats who can't be visited on tours due to a chronic bacterial infection (they're in good health but occasionally have outbreaks which can be contagious, and thus only staff members are allowed to interact with them). We're able to bring the Padcaster into their field so the students can meet these curious, lovely goats. And then we can easily disinfect the Padcaster afterward!
Had you seen an increase in visibility and engagement once you started posting and sharing the tours online?
Well, it's allowed us to have great conversations like this one! We have seen an increase in engagement on YouTube, where we primarily stream these live broadcasts, as well as on Facebook, where we've recently switched. Folks seem to really respond to live content.
Do you have any advice for other small businesses who would like to start giving virtual tours?
Go for it! Virtual programs are a great way to expand your reach to your audience, both new and old. Make them as unique as possible - we have the benefit of being a sanctuary full of animals with big personalities looking to make an appearance on screen. Make it as interactive as you can, in order to hold people's attention. The internet is oversaturated with entertaining material and it's so easy to lose people in a virtual setting when they can easily close the browser window and move on to something else. We've tried to think through interesting stories, funny jokes, creative ways to showcase the work that you do. And, we always end one virtual program by announcing when the next one is, giving a hint about what the next session will include keeping people curious!
Are there any video projects that you and your team are working on?
We originally developed a virtual program to reach people who would be otherwise unable to visit the sanctuary due to financial and/or geographical limitations. These situations will continue to exist in the future. So, we plan to offer these programs even when we are able to welcome visitors and groups to the Sanctuary in person again. 
Lauren has been in communication with the New York Coalition for Healthy School Food, which works with schools in New York City and the Ithaca region to provide plant-based nutrition information to elementary school students. We've been discussing a video which would compare the animals' health and nutrition to our own health and nutrition needs, to help the students learn about their own health while connecting with animals. With the Padcaster, we'll be able to gather footage for this and other scripted video programs which will provide an updated media experience for our audiences.
Padcaster transforms your iPad or smartphoneinto an all-in-one mobile production studio so you can create professional-quality videos from your home or anywhere else. Whether it's for distance learning, telecommuting, remote broadcasting or livestreaming -- Padcaster will help you produce high-quality content wherever you are. If you are adjusting to the remote workforce, Padcaster wants to help you! Fill out the form below to get in touch with one of our sales consultants!
Need More Information?
Fill out the form below to get in touch with a member of the Padcaster Team.