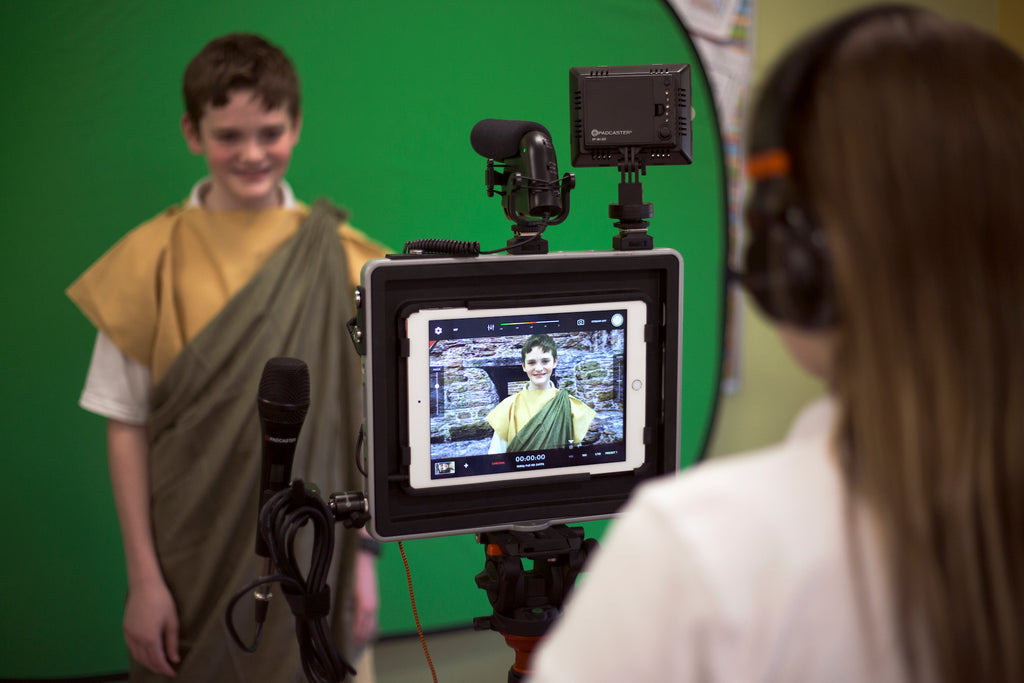 Incorporating video projects into the Social Studies classroom can be a fun and interactive way to engage your students. Allowing students to participate in the retelling of history will help them to not only research topics, but also retain what they have learned by making memories with their fellow classmates. Below we will give examples of exciting ways to bring history to life through video projects. 
INTERVIEW WITH A HISTORICAL FIGURE
This project can be a great way to not only help students research significant figures throughout history, but can also help them to think about the bigger picture and what may have led to the decisions that were made.

Have students break into groups of 2 and have each student select a relevant figure to portray. Each student will then come up with questions to ask their partner, then they each come up with answers to the questions they are asked. Once they have their questions and answers planned it's time to get into character and conduct the interviews. Have a presentation week where all interviews are played to the rest of the class.

CREATE AN EPISODIC SHOW
Often with Social Studies topics there are many milestones that have to be learned and discussed. A fun and interactive way to help students learn historical events is to break the story up into parts and have your students write and film episodes reenacting the important moments.
For example the Lewis and Clark expedition had many turning points that are important for students to remember. Each student can take part in writing one of the episodes as well as acting in the episodes, this will reinforce the information as the students will get to be creative and forever have the visual of their classmates portraying the characters to call back to.
PERFORM A PUPPET SHOW

Break the students up into groups and have them choose a relevant event to the material being learned. Then as a group the students will write a show that they will then record to be played to the class on a presentation day.

For the characters, all you need to do is draw/print the character out and attach it to a popsicle stick or straw that is green so that they blend into the background. Students can then draw or download backgrounds that will then be played through Green Screen technology behind their performance.
REPORT FROM THE SCENE 
Start by having student select a relevant historical event and do research on the catalyst through the outcome. Then task each student with writing a script and creating a video where they report the events the same way they see on the news today. To add the finishing touch, download stock footage backgrounds that match the scene and record!
Choose a presentation day and let the student share their reports. 
CREATE A MUSIC VIDEO
A music video project is a great way to make research fun for your students. This type of project allows students to be creative and incorporate their favorite types of music into their learning. Teachers love it because their students truly internalize the concept when they have to research an event or a person and write a song about it. 
Consider using this project for topics that students could benefit from memorizing, for example students could write and perform a song about the states and capitals, or perhaps write a song that highlights important dates and characters involved in the American Revolutionary War.
No matter what type of project you choose, incorporating video into the social studies classroom brings another avenue to help solidify the knowledge in your students. 
Padcaster transforms your
iPad
or
smartphone
into an all-in-one mobile production studio so you can create professional-quality videos from your home or anywhere else. Whether it's for distance learning, telecommuting, remote broadcasting or livestreaming -- Padcaster will help you produce high-quality content wherever you are. If you're considering having an event online such as a wedding, religious service, graduation, or 'gathering' of any kind, Padcaster wants to help you! Fill out the form below to get in touch with one of our sales consultants!
Need More Information?
Fill out the form below to get in touch with a member of the Padcaster Team.