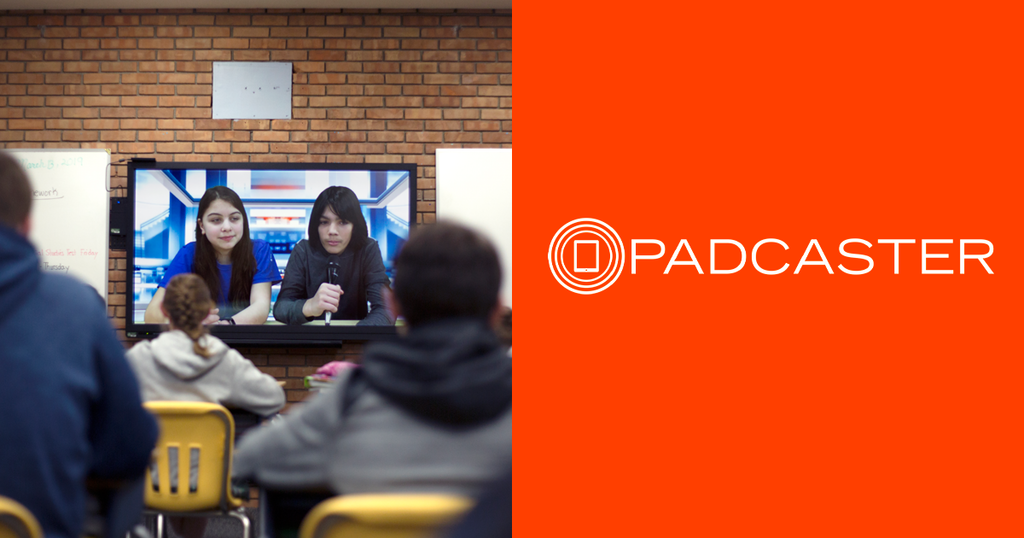 Add structure to your school's morning announcements by producing recurring segments. These segments can be aired monthly, weekly, or even daily. Students and viewers alike will look forward to certain segments, creating excitement and anticipation. You can also have a team of student producers for each segment, creating more leadership positions within your program. Below are a few ideas to get started!   
Featured Faculty Member: 
Highlight one teacher, administrator, or faculty member each week. Ask them about their careers and how they've gotten to where they are. This helps build community, gives students an insight into different fields, and humanizes school employees. It may shed light on a side of them that doesn't typically come across during class.
Weather Report: 
The weather report is a quintessential element of any cable news broadcast, so why not turn students into meteorologists? Utilize a green screen to do a daily or weekly weather report. Weather graphics are simple, so you can even task your students with creating the green screen backgrounds for the report. Older students can do this digitally in a program like  Adobe Photoshop, while younger students might enjoy drawing on paper. Simply take a photo of their drawing with the iPad to use it as the green screen background! 
Question Time: 
Choose a question to pose to various students. This can be done like "man on the street" interviews with student journalists just walking around during lunch talking to people. Alternatively, you could take a more structured approach to choosing students. Then edit all of the brief answers together to make a short montage. Considering adding the question as a 'lower third' so that viewers don't forget the question. Here are some examples, ranging from serious to silly: 
What is your best study tip? 
What's the best piece of advice someone has given you? 
How do you stay motivated when school gets challenging?
What do you look forward to most each day?  
If you could trade places with a character from your favorite movie or TV show, who would you choose and why?    
If you could be any emoji, which one would you be?
Would you rather ____ or _____?    
This is a simple way to get students who aren't part of the morning announcements involved. The more student voices you can include in your broadcast the better in order to encourage engagement across campus. As an added benefit, some students' answers to these questions might be helpful to other students. 
Alumni Spotlight: 
Interview an alumnus about their experience at the school, their career path, and any advice they have for current students. This is a great opportunity for students to practice interviewing people they don't know. These interviews can be conducted virtually if that's more practical for your school. 
Featured Club:
Oftentimes campus clubs, and the students involved with them, don't get the recognition they deserve. Help solve this problem by featuring a different club each week or month. Not only does this give clubs the spotlight they deserve, it might also help inspire other students to join. These segments can include interviews with students and advisors, clips from meetings or events, and notices about any upcoming ways to get involved. 
Sports Recap: 
Create your own mini Sports Center with a weekly sports recap. You can show highlight clips, interview student-athletes, or simply report the scores. For elementary schools that may not have their own sports teams, consider covering a local college or professional team. If you don't have time for a sports recap in your broadcast, you might consider creating this segment as 'bonus content' to be shared online. Make sure to cover a wide range of sports, as you never know where the interesting story lies. 
Quote of the Day: 
This is a great way to begin or end your broadcast. You can use famous quotes or gather quotes from teachers and students. Oftentimes schools put a still frame on screen for 30 seconds or so before the broadcast begins to give people time to tune in. You can use the quote of the day on the still frame so viewers can read it while they wait. Check out our example below!
Bloopers: 
Everyone loves a good blooper reel. This segment might be best to product monthly, or even as a fun year-end project. Have students edit together a quick reel of bloopers from the month to end the broadcast with. Introducing humor to the broadcast is a foolproof way to engage your audience! 
Does your program have a favorite recurring segment? We'd love to hear about it. Tag us on twitter @padcaster with your segment idea! 
Padcaster transforms your iPad or smartphone into an all-in-one mobile production studio so you can create professional-quality videos from or anywhere. Whether it's for telecommuting, remote broadcasting or livestreaming -- Padcaster will help you produce high-quality content wherever you are. Fill out the form below to get in touch with one of our sales consultants!
Need More Information?
Fill out the form below to get in touch with a member of the Padcaster Team.