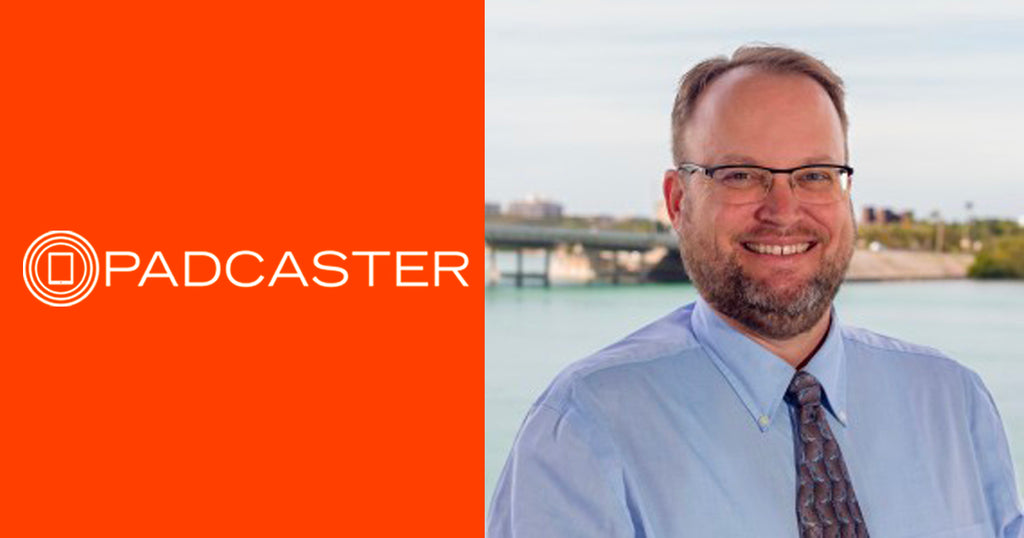 Virtual learning is a powerful tool for granting students access to important educational institutions regardless of where they are located. The Mote Marine Laboratory & Aquarium in Sarasota, Florida is spreading their message of ocean literacy and marine habitat conservation by engaging students of all ages via their expansive virtual learning programs. Jason Robertshaw, Mote's Virtual Learning Program Manager, utilizes his background in public television and passion for marine biology when creating engaging educational content for viewers. Mr. Robertshaw is constantly looking for new ways to improve Mote's distance learning programs and recently integrated the Padcaster Studio into his equipment arsenal to expand their livestreaming capabilities. Padcaster spoke with Mr. Robertshaw about the Mote Aquarium's dedication to inspiring a love of marine science in students, what it takes to livestream out of a shark habitat and expanding Mote's curriculum with Padcaster.  
What do you typically use your Padcaster for?
We have two [traditional] studio rooms here at the Mote Aquarium that we have been using for distance learning for over 20 years but were confined to those spaces. We preferred to be able to film out in our exhibit spaces, but we were challenged with setting up and filming in the habitats in a way that's unobtrusive to our guests' experience. Originally, when we attempted to do programming from the exhibits it was really difficult for us to bring all the AV equipment into the aquarium. After trying to do that a couple of times we started searching for a different solution and that's what led us to Padcaster. The Padcaster is an affordable, portable, rugged system that adequately meets our filmmaking needs and it lets us get out of the studios, enter those habitats no problem and without disrupting the guest experience. 
Are you normally recording these remote learning modules or are you filming livestreams? 
Our more recent push for live programs was funded in part by the local foundation and as part of our COVID response. 
The lessons are live, interactive and organized through video conferencing. We connect over zoom using the iPad and the Padcaster. We also use Microsoft Teams, Cisco, and WebEx software to connect with people. We just completed a program with Cisco this morning using their WebEx app on the iPad.
That's great! How does that program work? Is your audience able to ask you questions while the presentation is going on?
Oh yeah! It's live and interactive. Audience members send in questions via a chat function and I relay the questions to our host Ross as he is giving the presentation live. 
We use the Parrot Teleprompter as a kind of a conference and a program monitor so Ross can easily answer questions without losing his place in the lesson. He takes what's going on in front of the camera while I take care of switching between photos, slides and the camera. Conducting it this way also lets me signal Ross, or whoever is hosting the program at the time, with my hands or voice and not interrupt the class. Using the teleprompter in this way has helped us create this really nice interactive program.
What an innovative way to use the Parrot Teleprompter! Tell me more about the Mote Aquarium shark livestream program. 
For our program on sharks, we will have our host Ross at the top of our shark habitat looking down into our 135,000 gallon Gulf of Mexico exhibit. The sharks in the habitat are sandbar sharks which are native fish that we find here locally in Florida. We target train them just like you would train your dog or cat at home.
The shark habitat livestreams are all about how we train the sharks to come up to specific targets and so we can feed them using poles. They get the exact amount of food that they need without having to compete with the other fish in the tank. Sharks, despite their reputation, don't really compete very well for the food against the other bony fish that are in the habitat with them. The other fish are much faster so we actually have to take great care that sharks get enough food. The whole program is about 30 minutes because our staff can't have access to the aquarium while it's open to guests. 
This is our first pilot program and we started it due to COVID at the beginning of April. It has been really successful so far, and we want to expand it but are just limited by the wifi capabilities of our laboratory campus. 
I'm going to start experimenting with cellular data and if that works we will really be able to expand our programming to other locations. It would really open up everything to us, and we could go film anywhere we wanted.
Do schools have a favorite topic or exhibit? 
Mote is most famous for its shark research and that's definitely the favorite with kids. It is our most popular but we do have other programs on manatees quarry, sea turtles. Our Storytime programs shows have also been very popular. There's not a lot of science content out there like this for the elementary teachers and the Storytime programs really help them out and get kids interested in literacy and in science. We have our 20 research programs here at Mote as well as programs studying climate change and environmental issues. Out of everything the sharks are still our most popular topic.
That's really impressive! How are you reaching out to the schools? Or do they get in touch with you about these programs? 
We have a listing on our website, of course, but we also partner with a lot of other organizations such as the Center for Interactive Learning and Collaborations to get the message out.
There's obviously been a huge ramp-up in virtual learning in the past couple of months, but as I said previously, we've been doing distance learning for over 20 years. We have several networks that we connect with. A lot of schools have been really interested in connecting with us to do these live interactive programs, which up until we got the Padcaster, used to be only out of our studios and not the actual exhibits. The Padcaster is affordable and makes conducting live programs at the locations we want more accessible for us.
Do you ever go live on any social media channels or is it all through the website and through private Zooms?
If people are connecting with us via a virtual field trip, it's exclusive to that audience so we would use a more private platform such as  Zoom. We call those programs our points of point, our SEA-Trek programs. We also conduct a series we call the Sea-Show show programs, which are public live stream programs, and we use either our Facebook or YouTube channel depending whatever the particular program demands.
Overall it is usually YouTube. Typically we'll have a small cohort of interactive folks that  ask us questions directly during the livestream, but for other Q&A's we use simulcast through zoom and some of these other programs, capabilities to our YouTube or Facebook channels.
What levels of education do you work with? Do you work with any groups outside of the school system?
We run the whole gamut of education levels, Pre-K through college and even adult learners. Our most popular programs are for the little folks, especially our K - 2 series with a program where we adapt storybooks.
We have a career based program as well as shark training classes. We also do some environmental awareness programs.
One of my favorite programs is one where we connect with senior centers, we call those lifelong learning programs. We have also community programs where we connect with local organizations like Rotary for example. That program is really for any company or organization that is looking for a cool option for a unique virtual activity. It's really great.
What other projects do you use your Padcaster Studio for?
We have partnered with Microsoft on a pretty cool program called Flipgrid. We just started using the Padcaster for what I would call asynchronous content where we're recording question and answer videos with students.
On our Flipgrid page students or the general public can film themselves asking questions about the ocean and we are able to easily record our staff responding to those questions. The nice thing about the Padcaster is, and this is really where it came into shine, was that we can use it to directly record those responses.
We've had over 57 video questions and answers so far. It's so nice to be able to directly record our video responses using the Padcaster instead of having to record, download, edit, and respond. We are able to just pop right in there and fire up the Padcaster and start filming. 
Where are school tuning in from? Is it just local schools around Florida?
We work with schools all over the US and even some international schools! We recently did a program with a Yukon school up in the far north of Canada. 
Right now we are limited to English-speaking audiences and our biggest restriction is time zones. I'd love to do programming with Australia, but I'm also not really interested in coming in at midnight if I don't have to. The biggest limitation to live shows with international audiences definitely is time zones and language barriers, but we do attempt to connect with groups all over the world.
How are you looking to expand your programming? What's next in distance learning at the Mote Aquarium and Laboratory?
The newest program that we're working on with the Padcaster is called our Exploration Series. We're actually going to go out into the environment, and see if we can livestream off a wifi hotspot. Our last program we did from the top of the shark habitat in the aquarium, but we're also looking at going live from locations besides the aquarium like our sea turtle hospital, the seagrass beds that are down below this building, and mangroves that are across the street. The ultimate goal is to see if we can go live at those habitats and offer programming on location. 
We are definitely interested in exploring different kinds of videos with the Padcaster, figuring out where we can take it and how to expand our distance learning programs. I'm also interested in getting another, Padcaster Studio because we would like to use multicam in some of our videos. That way we would be able to film our shark habitat with two cameras instead of just one.
Padcaster transforms your
iPad
or
smartphone
into an all-in-one mobile production studio so you can create professional-quality videos from your home or anywhere else. Whether it's for distance learning, telecommuting, remote broadcasting or livestreaming -- Padcaster will help you produce high-quality content wherever you are. If you're considering having an event online such as a wedding, religious service, graduation, or 'gathering' of any kind, Padcaster wants to help you! Fill out the form below to get in touch with one of our sales consultants!
Need More Information?
Fill out the form below to get in touch with a member of the Padcaster Team.