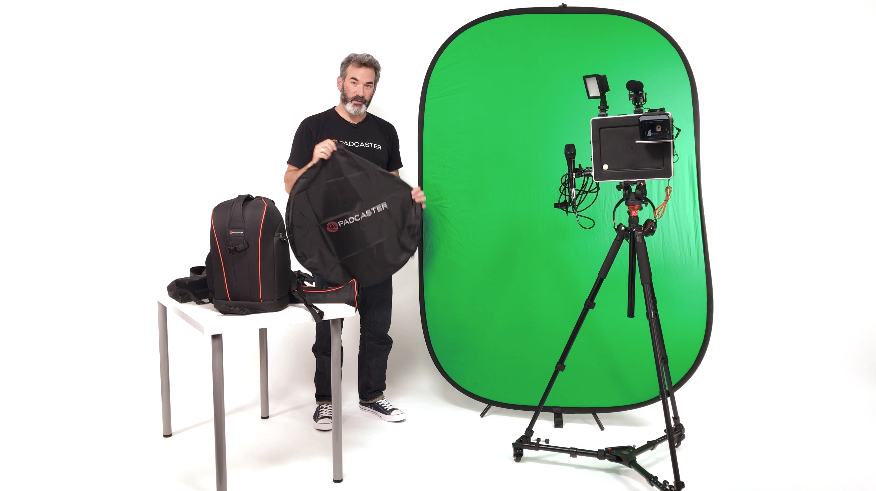 We launched our NEW Padcaster Studio in September and one of our favorite parts about it is all of the awesome new features that come with it. We've put together a few product tutorials to show you just how easy-to-use our NEW Studio is!
The Tripod/Monopod
Portability is key to a successful mobile film studio, which is why we put so much thought into creating our Tripod/Monopod. This easy to set-up ruggedly elegant accessory will quickly become your most essential piece of equipment. With the ability to extend from 71 inches to fold down to only 22 inches our Tripod/Monopod is the definition of portable. Watch as our CEO and Founder Josh Apter demonstrates just how simple it is to use this key part of your mobile filmmaking suite.
The Green Screen
We want to help inspire your imagination to take your projects to places you never thought you could. With the help of our Green Screen, no location is off limits! Simple to put together and compatible with an easy to use app, the Green Screen provides you with limitless options with which to express your creativity. The NEW Padcaster Studio now comes with not just the Green Screen but also the Universal Stand to make things as straightforward and as streamlined as possible. Putting everything together is a snap, as shown in our Green Screen Demo Video by Josh Apter.
The NEW Padcaster Studio 
The Tripod/Monopod and the Green Screen are just two of the many accessories that come with the NEW Padcaster Studio. Each was designed to make mobile filmmaking easy and accessible to not just the seasoned filmmaker but also to the student working on their very first video assignment. In our NEW Padcaster Studio product demo Josh Apter walks you through the easy set up of this dynamic filmmaking suite.
By Marin Morales
Need More Information?
Fill out the form below to get in touch with a member of the Padcaster Team.