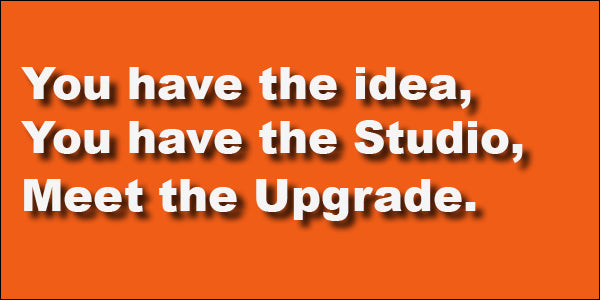 So you've completed your first video with your Padcaster Studio but now you're looking to take your newest project to the next level. Well, we've curated the perfect combo of accessories to do just that. We've created the ultimate Upgrade Kit. The goal of the kit is to keep you from sweating the small stuff and concentrating more on what's really important, filming your latest ideas. Contact your Padcaster® Sales Representative or email sales@padcaster.com for information on how to purchase.
The Padcaster® Stereo Headphones
With the help of the Padcaster Stereo Headphones, you no longer have to wait until you're done filming to make sure your sound has recorded properly. With powerful 40mm speakers, a durable 1.5-meter braided cable and compact folding design, these headphones are the perfect accessory for monitoring your film's audio.
 The Padcaster Supershade
Sometimes it's the smallest factors that can end up causing the biggest problems. Having to constantly deal with too much glare on your screen can cause loss of focus and lead to a frustrating shoot. Which is why we created the Padcaster Supershade, an ultra-versatile case that not only blocks those invasive rays of light and wandering eyes but can also fold into a sturdy hard-case to protect your device during transit.
The Padcaster Telephoto Lens 
Want to get close to the action, but lacked the tools? We've included the Padcaster Telephoto Lens because it provides twice the magnification of the standard iPad lens' field of view.
 The Padcaster Universal Stand 
Filming can be filled with tiny pitfalls that can steal valuable time away from a project. Especially if you have to worry about whether there is a wall to lean your green screen against or shelf to balance a light on. The Universal Stand is absolutely crucial when it comes to easy mobile filmmaking. With it, you can place a light wherever you want, or have the freedom to use your green screen in any location.
Bluetooth Remote & Cleaning Kit 
Our Parrot™ Teleprompter is one of our favorite new products and we've added a few supplemental accessories to make it even more useful. With the help of the Parrot Bluetooth Remote to control your script and the handy Parrot Cleaning Kit, using the Parrot™ Teleprompter is more convenient than ever before.
by Marin Morales
Need More Information?
Fill out the form below to get in touch with a member of the Padcaster Team.