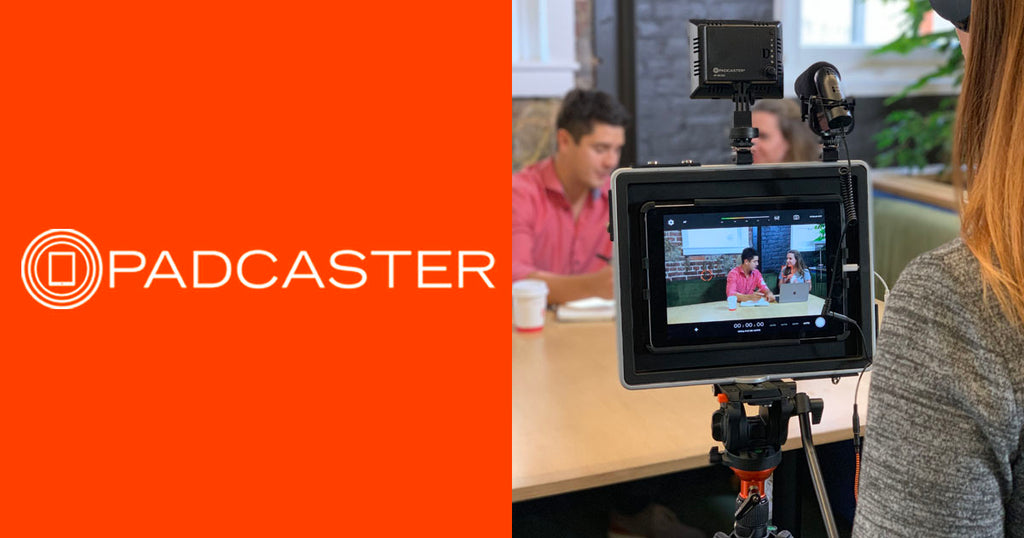 Whether you are part of an in-house marketing team or working for an agency that manages several client accounts, you probably landed here because you are looking for easy and inexpensive ways to create videos for your brand or brands, right?  
Marketers have been hearing the "video is king" drumbeat for at least the last five years, if not longer. It's the way many of our target personas consume content. According to Wyzowl's The State of Video Marketing survey, people watch an average of 18 hours of online video per week and are twice as likely to share videos over any other content type. 
Video is the frontrunner for engaging and converting consumers, especially since early 2020, when social distancing and connecting remotely with audiences became the norm. But it isn't easy. Or, should we say: Video marketing is as difficult as you make it. 
With a few tools, you can create top-notch videos inexpensively and with little effort. It's very likely that you already have the key components to create professional-quality videos. You might even be reading this article on one right now.
Must-Have Video Marketing
You — and whoever manages your organization's budget — will be happy to hear that to create high-quality business marketing videos, you probably already have essential tools: a smartphone or an iPad. Today's smartphones and tablets are capable of filming full high-definition (HD) videos. With a few add-ons, you can transform your smart devices into video production powerhouses.
Video File Storage Recommendations
Although most smartphones and all current iPads can shoot full HD video, the files take up a considerable amount of space, so be sure your smartphone or iPad has sufficient storage — minimum 32GB. Get cloud-based storage not only for your larger files, but also to securely save your videos. If your device is lost or damaged, you don't want to lose your work. We recommend cloud storage that offers:
Minimum 5 TB storage
Unlimited file size
2-factor authentication
Encrypted cloud storage
iPad Recommendations
If you're looking to purchase an iPad, you have some options. Any iPad with a camera will work, but keep in mind the newer the iPad the higher the video quality.
Recommended iPad Accessories
To shoot steady, high-quality video, look for a case and a tripod, as well as a grip for mobile "man-on-the-street" type videos.
We know we're partial toward our own Padcaster, but it's for a good reason. Our team developed it not only to steady your shots but also to transform the iPad into a fully functioning production studio. The Padcaster frame has several ports and mounts, so you can add lights, microphones, headphones, lenses and even a mini teleprompter. 
If this seems like a good solution for you, then check out our two most popular filmmaking kits for iPads — the Padcaster Studio and the Padcaster Starter Kit. 
Smartphone Recommendations
To create wow-worthy videos from your smartphone, we've created the Padcaster Verse, which works with most every smartphone, including iPhones and Android-powered models. At the core of the Verse is the adjustable grip which can accommodate any size or style of smartphone. Surrounding the grip  is the frame itself, which is an ergonomically designed rugged metal frame with multiple mounts, so you can attach lights, microphones, or a  tripod.   We've created three Verse packages for smartphone users, starting at only $69.
Microphones For Smartphones And iPads
The biggest perceived limitation of using smartphones and tablets as marketing video tools is audio but with a few microphone accessories this can easily be remedied. If you're filming several feet from the person who's speaking, then look no further than our Mini Microphone . This powerful microphone packs a huge punch for its tiny size, allowing you to capture  only the sound you want while  its thick windscreen, and shock mount help to cut down on unwanted noise. 
The Padcaster Stick Microphone and Lavalier Microphone are also great options when looking to improve the sound quality of your videos. Both are included in the Padcaster Studio.
Editing Software for Video Marketing
Post filming, you'll need editing software. There's no shortage of free, freemium, and fee-based editing software, as you will find. So why is video editing software so important, and what should you look for in editing software?
Video editing software allows you to do so much more than the basics like trim, join, or cut clips. With today's editing apps, you can apply filters, seamless transitions, creative effects, and special effects like animation and chroma-key. While many video editing features are similar across applications, ultimately, what determines which software best suits your needs is your budget, what platform or device you will be editing on, and how important features like filters and creative effects are to your project.
Here are a few popular options:
Adobe Premiere Pro CC — Adobe Premiere Pro CC is a hefty program filled with features and supports 4K and higher and HDR video. This app can run on Windows and Apple operating systems. Adobe offers a free seven-day trial. The software is available only as a subscription, ranging from $20.99 to $79.99 a month.
Apple Final Cut Pro X — Apple Final Cut Pro X is a powerful, professional editing tool (an upgrade to Apple's free tool iMovie) that is easy to use. Apple offers a 90-day (long enough to get your feet wet) free trial; otherwise, the cost is $299.
KineMaster — KineMaster is an easy to use full-featured video editor for smartphones and iPads; however, to add features like the ability to export in 1080p or 4K, you'll need to subscribe to KineMaster Premium. This application works on Mac, PC, Android, and Apple mobile devices.
LumaFusion — LumaFusion is a professional video editing app for iPhones and iPads. As a multi-track video editor (excellent for adding and mixing multiple overlays, music, logo, and captions), this software offers plenty of bells and whistles for $29.99.
Wondershare's Filmora — Available for PC and Mac, Wondershare's Filmora is inexpensive and offers many effects and overlays. Filmora offers a free trial. You can purchase the software either as a subscription for $44.99 per year or outright for $59.99.
5 Video Marketing Tips
Marketing videos help brands reach a wider audience online. They take businesses beyond traditional brick-and-mortar to help educate, inform and even entertain a much wider customer base. If we had to sum up our advice on tools for business video marketing, these are the five must-haves that every brand video should have.
High-quality sound — Your audience must be able to hear your message. Adding captions to your video files is one way to reach a larger audience, including deaf, hard-of-hearing viewers or consumers who speak a different language. 
Optimization for search — Like written content, videos require some SEO love before Google and your customers can find them. Provide full transcripts or text highlights with each video to appeal to visitors that prefer videos or those who'd rather read. Change the file's metadata to something relevant to the content. Titles should include keywords and be under 60 characters, while meta descriptions need 155 characters or less.
Educate and inform — Avoid making all of your videos sound like commercials. You want to educate and inform your viewers, introduce yourself and your brand, answer product or service questions and engage with your audience. Use video content to connect with your audience, not just sell to them. 
Keep it short — Social media users expect varying video lengths depending on the platform. So while two-minute videos may fly on YouTube, most viewers on Twitter expect something considerably shorter. Facebook for Business indicates that 65% of people who watch the first three seconds of a video will watch for 10 seconds, while 45% continue watching for 30 seconds. So your best bet is to get straight to the point and keep it short if possible.
Calls to action — CTAs are just as crucial to videos as written content. When creating your video, include overlays (buttons, links) asking your viewers to perform an action such as subscribe, like, suggest another video, visit your website, follow you on social media, share, and comment. Don't make your video a dead end. Think about what you want your audience to do next and where they might be in their customer journey; then, give them options that lead them to the next step.
Now that you know what tools, editing software, and elements you need to create videos for your business, it's time to get out there and start filming.
Padcaster transforms your iPad or smartphone into an all-in-one mobile production studio so you can create professional-quality videos from or anywhere. Whether it's for telecommuting, remote broadcasting or livestreaming -- Padcaster will help you produce high-quality content wherever you are. Fill out the form below to get in touch with one of our sales consultants!
Need More Information?
Fill out the form below to get in touch with a member of the Padcaster Team.